Winslows Australian Shepherds
asca/can Ch. Winslows Invitation 2 Success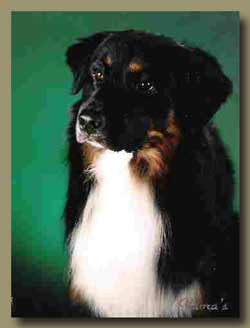 Black Tri
Red Producer
Dark Brown Eyes - Cleared
Bite: Full / Scissors
21 50#

OFA: AS-7331F28M-T
Pelger-Huet: Negative
dob: 05-27-91
dod: 11-09-05

Bryan
Being a little black dog with a bare necessity of trim isn't always easy!
In Canada, Bryan finished easily with 12 pts and several Bests.
For his International title Bryan easily took home his required V-1s with Best of Breeds and a Group Placement!

Bryan had outgoing and loving temperament and got along well with other males and females equally.
He was used numerous times as a Juniors dog, displaying his easy going disposition and gentlemanly manners.
Bryan was undeniably a clean moving dog - coming, going and has flawless sidegait!
As a working dog he had very good balance and rated his stock well. He had been worked on sheep, cattle, goats and ducks with the same enthusiasm and willingness to please. Although a fetcher, he had a natural ability to drive.

To date he has produced several OFA Excellent and Good progeny; Champion, Working and Obedience titled progeny with only three litters on the ground, an UCI-International Champion, two UCI-National Champions and UCI International Best In Show puppy and Sweepstakeswinner! As well as '99 ASCA Nationals Most Versatile Aussie, 9th Place Finisher! Int'l Ch. Winslows Coalminers Daughter CDX RV-O JV-N OTDs STDdc "Brenna". Brenna also qualified at the 2002 Nationals!

Bryan's last venture out to the AKC Ring brought home more points!

Bryan hadn't been out in over TWO Years!!! This guy was AWESOME to watch move!!
Bryan and a few of his progeny
WD

WD/BOW/BOB

WD/BOW/BOS

WD/BOW
(AKC)

First Place Stud Dog Class

A-Ch Winslows Hear I Am!

Winslows Breath of Heaven (asca/akc 10pts)

Winslows Christmas Invitation (asca mjr ptd)

Intl Ch Winslows Coalminers Daughter
CDX OTDs STDdc RV-O JV-N

Ch. Winslows Corporate Report