Winslows Shaman Chant ASCA CD TD RNX RAX STDdsc / AKC CD RE TD CA
Sire: WTCH Vaquero's Cole Younger, AFTDs, DNA-VP
Dam: HOF Dam WTCH Winslows Eye Candy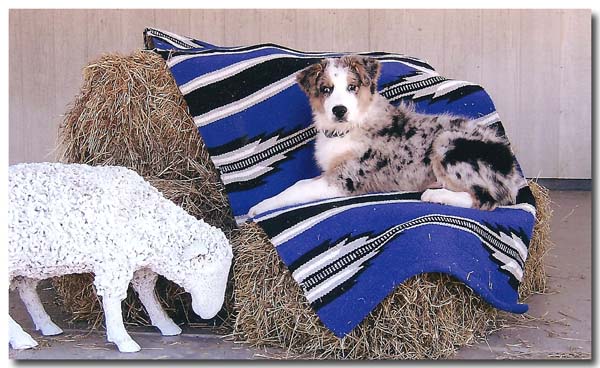 Chant is currently owned by Sarah Elhoffer of Sierra Echo Aussies and Melanie Magamoll. Mel and Chant went to their first TD trial (AKC) on Sunday, November 2, 2008 and scored! On February 28, 2010 Chant trialed for his ASCA TD and was the ONLY dog to qualify and did the track in 5 minutes! THANKS Mel!!!
Update on Chant, just heard from Mel. Chant has completed his AKC & ASCA CD titles with 2 first placements and one HIT Aussie. Every time he entered the ring he qualified! WAY TO GO CHANT AND MEL!!

Chant went for TDX in February but came out of the woods on an animal scent and missed a turn. Everything else was beautiful, he found all the articles and never stopped.
More updates from Melanie:
"we showed last weekend, he took 2nd both days in Rally Novice, 98 & 100, got beat out of 1st by 40/100th of a second!  Open A he did everything both days but the broad jump.  First time in open class I was very pleased.  I just love that boy!  Next show in two weeks and I hope to have the broad jump fixed! "
8/2014
I had a great weekend at FASA's 4 Rally Trials. Chant, my boy, finished his RNX title with a 199 and his RAX title with 199, 200 and 200, three firsts and HIT and HIT Aussie on Sunday. Thank you Margi Floyd.
May 30, 2015: From Melanie: I am so proud of Mr. Chant! This weekend he achieved his ASCA started cattle, sheep and duck titles and placed in all 9 runs! He is not fond of cattle but we are going to work on that. He also got High in Trial Started in the 2nd trial today.