HOF Dam #324
WTCH Winslows Eye Candy
(asca mjr ptd)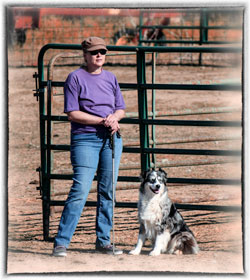 sire: Ch. Winslows Market Analysis
dam: Winslows Christmas Invitation asca mjr ptd
Dam of:
WTCH Winslows Reloaded RTDsc
Winslows Solemn Vow CD ATDsd OTDc asca Ptd
Winslows Burning Ring of Fire ATDcd OTDs
All by WTCH Sweetgrass Flying 'A' Blackjack
Courtney was my pick from day one out of this litter. (Actually she picked me!) There was just something special about this bitch that I liked. Maybe she reminded me of her mom, as, like her, she also had rear dewclaws! And, although a blue merle, Courtney has similar face markings as her mom. And, when her eyes started to change color? Ditto! Courtney's left eye has just a smidgen of amber!
Later, when she was up on her feet and walking around, her structure was just astounding!
She four-square stacks effortlessly and has a presence that says "HEY! Look at ME!" The photos of Courtney do not do her justice! She may not be flashy, but boy, watch her move! Even at the age of 12! (Shown right is Courtney at 12; below trotting at age 9.)
Courtney also is VERY spoiled! She tried VERY hard to start sleeping in my bed at 3 wks. I figured then it was time for all the pups to be outside on the porch!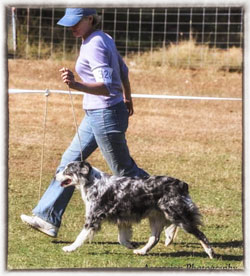 She thinks the goats, sheep and chickens are real neat and would watch them forever with her sister, Georgia, through the fence or when out with them will usually hang out with the *Nice* ones!
One thing I will say about this girl is she is a workaholic. When I think it's time to go into the house, Courtney will usually lay down in front of the pen waiting to go back to work. Courtney also is great in going out and putting the stock back in the pens, then she will lay either inside the pen with the sheep, quietly dozing off or outside the pen. The sheep are quite content and at ease. Courtney is a very quiet worker, hasn't started heeling but does head. She will also go under the sheep in the take pen/chute and goose them to get them moving.
2001 - Courtney went to her first ASCA Trial on October 13/14th, 2001. At 17 mos. she got her Started Trial Dog Sheep title! We were VERY, VERY Proud of her! She took control of her sheep and kept them together.
2002 - We started training with Elsie Rhodes in 2002. Courtney is taking better time and rating but still likes to get things interesting as you can see by her trial scores! She is also now showing a lot of eye (which has been passed on to her from her dad and grandma) now that she is slowing down in her working.Courtney is now starting to works cows as well as working towards advanced work.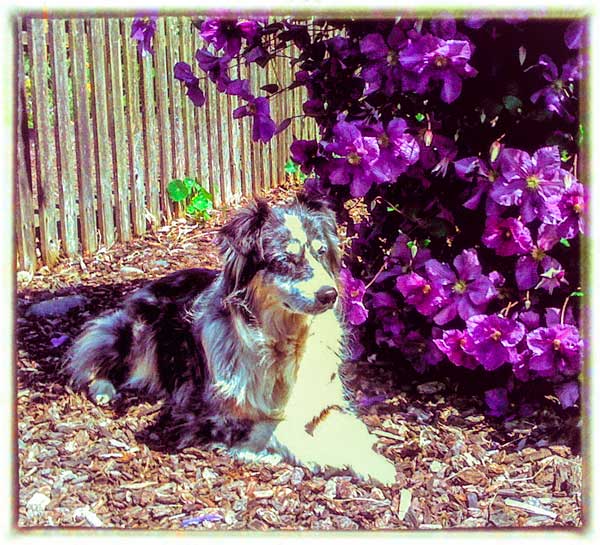 In June we went to the Hovander Trials and boy were we surprised! From finishing her STD d on Saturday to her first time in Open Ducks on Sunday she Q's on very hard ducks both days and goes High In Trial! WHAT A GIRL!!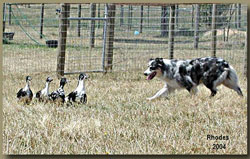 Courtney's next days out where in August at Langley. It was also her first time trialing on Cattle. Granted we didn't Q either day but she was impressive and garnered some nice comments from the judges. Courtney also finished her Open titles on sheep and ducks with some pretty nice scores as well as another 1st place in Ducks and on Sheep!
Courtney's third try on cattle gains her first leg with a 2nd place. (She Q'd for first but it was broken by time - we were slower!) Stock was tough but she hung in there! And her next run in July she Q's and gains her STD c with 4th place.
Well, her 2nd time out in Advanced Ducks and she qualifies with an 88 and a 4th place! WOW. 7 more legs to go!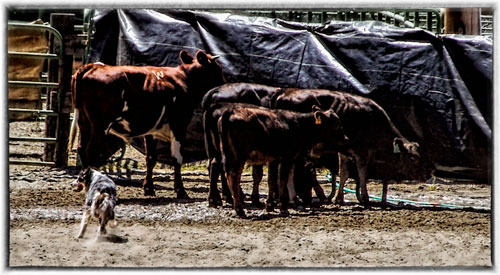 July 2005 - Courtney finishes her ATDd! Six more legs to go!
June / July 2007
After a brief training camp in November 2006 at Sherry Bakers, I learned a few things that I had been doing wrong and also realized that I had a really nice working dog that could move cattle. This attitude adjustment - thanks to Sherry - revitilized our working partnership and has let Courtney shine on cattle. Although working tough cattle lately at trials, we haven't qualified yet in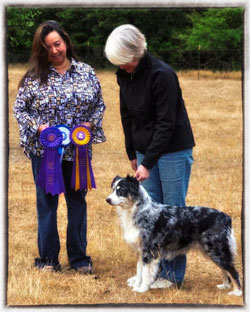 Open, but have come close and have picked up and been consistently in the top placements in large classes.
Fall 2007- WE GOT SOME CALVES!
I've finally been able to purchase some calves to grow and work the dogs on. These past few months as they grow, Courtney and Trouble have become a great team in working them. Courtney has enjoyed working them and seems to prefer them over the sheep!
2008 - Having the cows paid off by Courtney starting and finishing her Open Cattle title. On to Advanced.
2009 - Courtney showed a few times in conformation picking up 8 points and a major! Unfortunately, with the amount of teeth broken from working, it doesn't look like we will be able to finish her championship.
2011 - Courtney picked up an Advanced Cattle leg and both Advanced Sheep legs. She needs one more leg to finish her WTCH! Unfortunately, at the end of the trial season, Courtney sustained a bad blow to the mouth. This, combined with the tweaking of her neck and lower back, was acerbated by a blow to her confidence.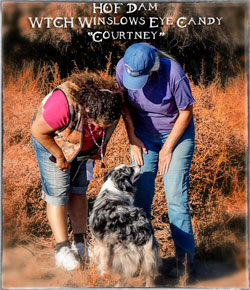 September 2012 - After less than a year of working on sheep and trialing on cattle, assisting her each time - even when it meant crossing the handler's line again and again, we went back to eastern Oregon and gained that final Cattle leg to finish her Working Trial Championship with a 4th place in a large class and decent score of 102. Although her morning run wasn't the best, with the insight from a judge and others, her afternoon run was close to picture perfect.
Courtney is now retired and living the life of leisure.