Ch. Winslows Tak'n Harley for a Spin
BN CD RM RSO GSE JSE STDcs DNA-VP
Sire: HOF WTCH Justus Spin DNA-VP RTDsc PATDs
Dam: A-CH Winslows High Tone Woman DNA-CP STDdsc JSDA-N
(Winners Bitch/Best of Winners 2018 ASCA Nationals;
Reserve Winners Bitch, 2018 ASCA National Preshow)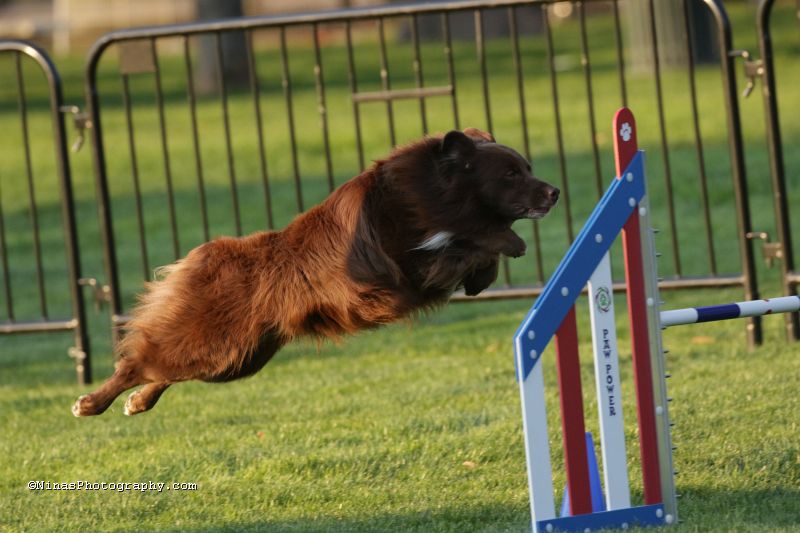 Photo by NinasPhotography.com Sept 2018 - ASCA Nationals Agility.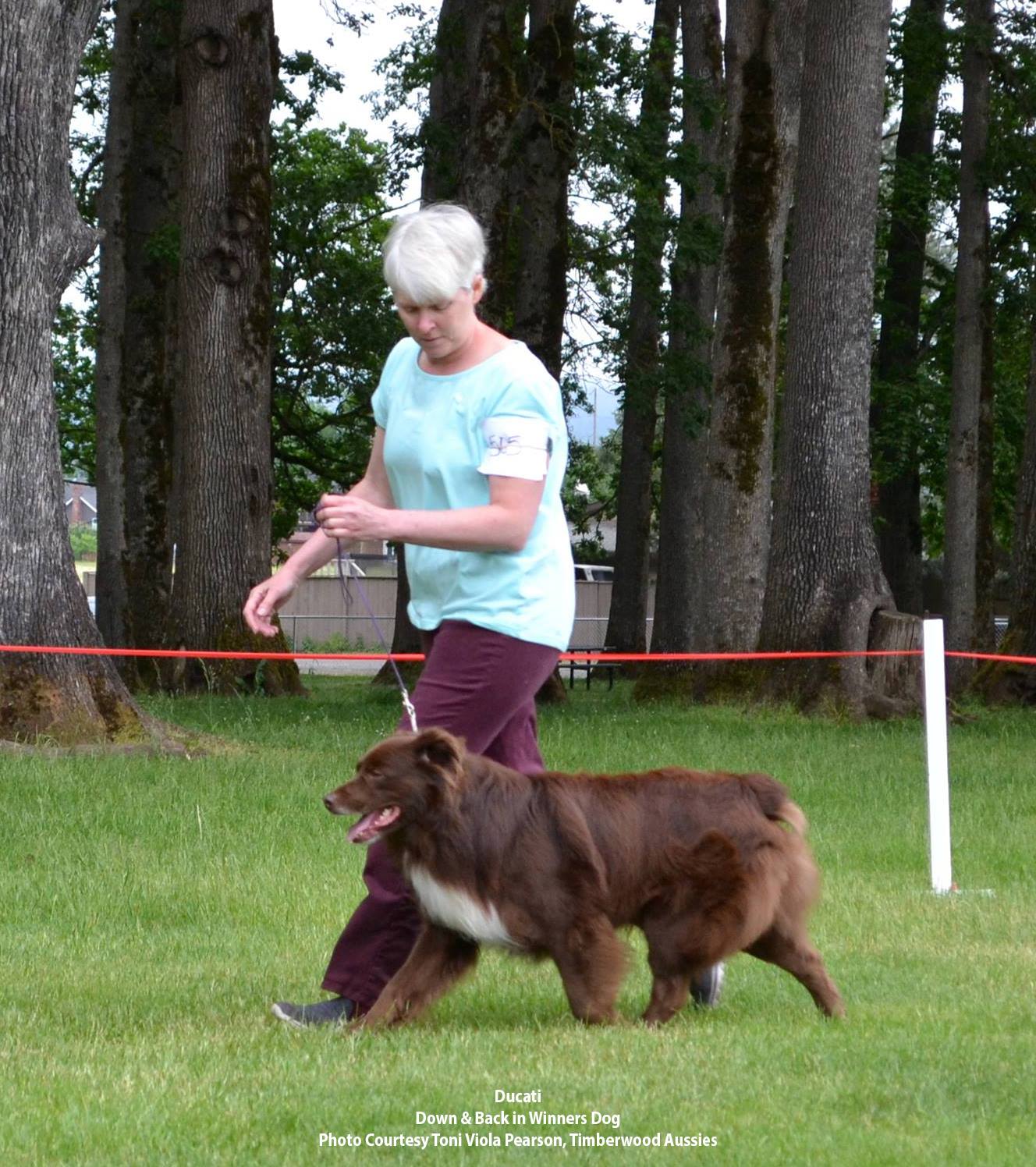 Photo by Toni Viola Pearson, Timberwood Aussies. June 2017
Ducati is my pick to stay here at Winslow to carry on the line from Trouble. I have high hopes for this sweetie.
Ducati is a smart, happy, willing puppy who has his mother's exhuberant trait of thinking everyone, everything is his best friend. He loves going to feed the goats and wiggles all over greeting them.
Latest Happenings:
2020 - 2021
Well, COVID-19 hit so competition and training for the most part took a back seat. But, in 2021 we have gone back to work on stock. Ducati finished his Started Sheep and Cattle title. We haven't approached ducks yet since there haven't been any to work. There are some trials coming up, and we have been doing a lot of sheep camps with some cattle camps as well.
Not much has happened in agility but we do have a few trials coming up.
For 2019 we intended to get ready to work stock to get ready for his Started/Open titles at Nationals as well. But that didn't work out so we competed in Rally (gaining two legs on his Masters) Agility (a leg in Elite Jumpers) and comformation . I still have plans to train for his TD. We have the basic groundwork done, thanks to all the work we put in for Scent Detection work.
2018 Ducati was busy getting ready for Agility and Rally. By Nationals in September he was ready to compete! By October he had started and finished his Novice Jumpers, Regular and Gamblers in Agility and Open Jumpers. Add to that he finished his Rally Advance and Rally Excellent. We continue to train for Rally Masters and Elite in Agility to get ready for the 2019 ASCA Nationals in Bakersfield!
2017 was been a exciting year for Ducati and his mom. Starting in May, on May 13 for Mother's Day, Ducati took Winners Dog, Best Of Winners, Best Opposite over Specials for three points. Later that month, on Memorial Day Weekend, he picked up five points with a Best Opposite, again over specials, as well as a Reserve to Five points.
Starting off in the first weekend of June, Ducati finished his Rally Novice AND finished his Championship by taking another Five points with a Best of Breed/Best of Winners over Specials!
During July 4th weekend, he was pulled for Best of Breed and Finished his CD!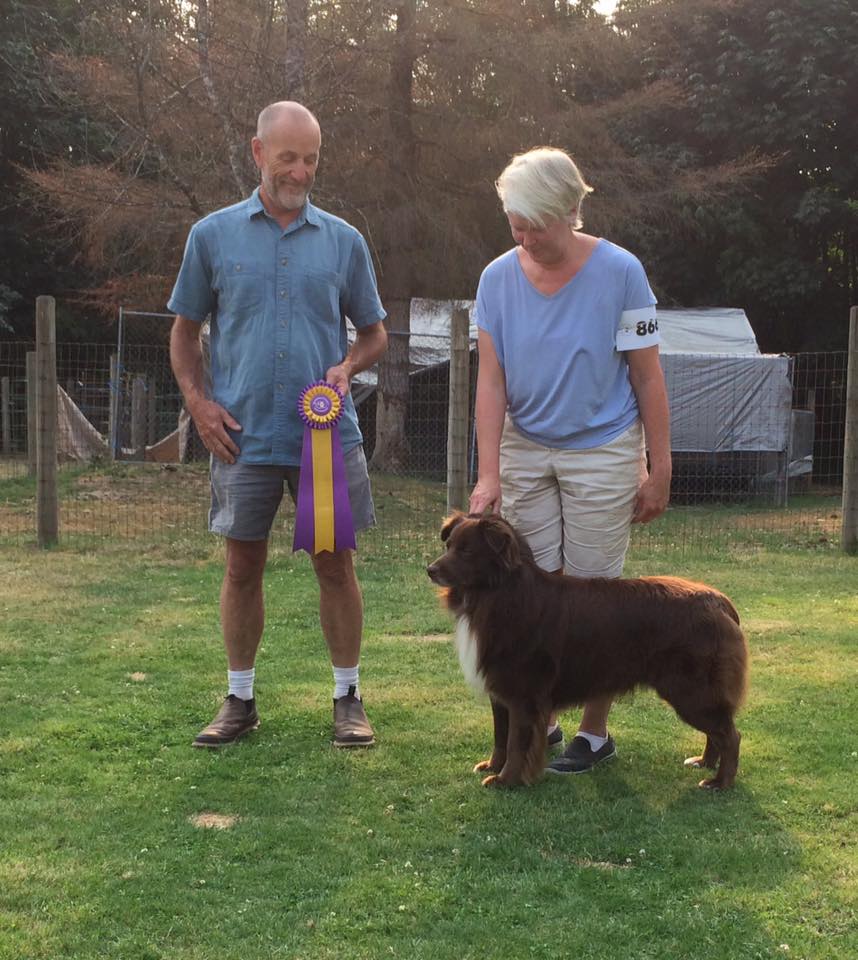 August 5, 2017:
Best of Breed. SDJ/SBJ Maarten Walter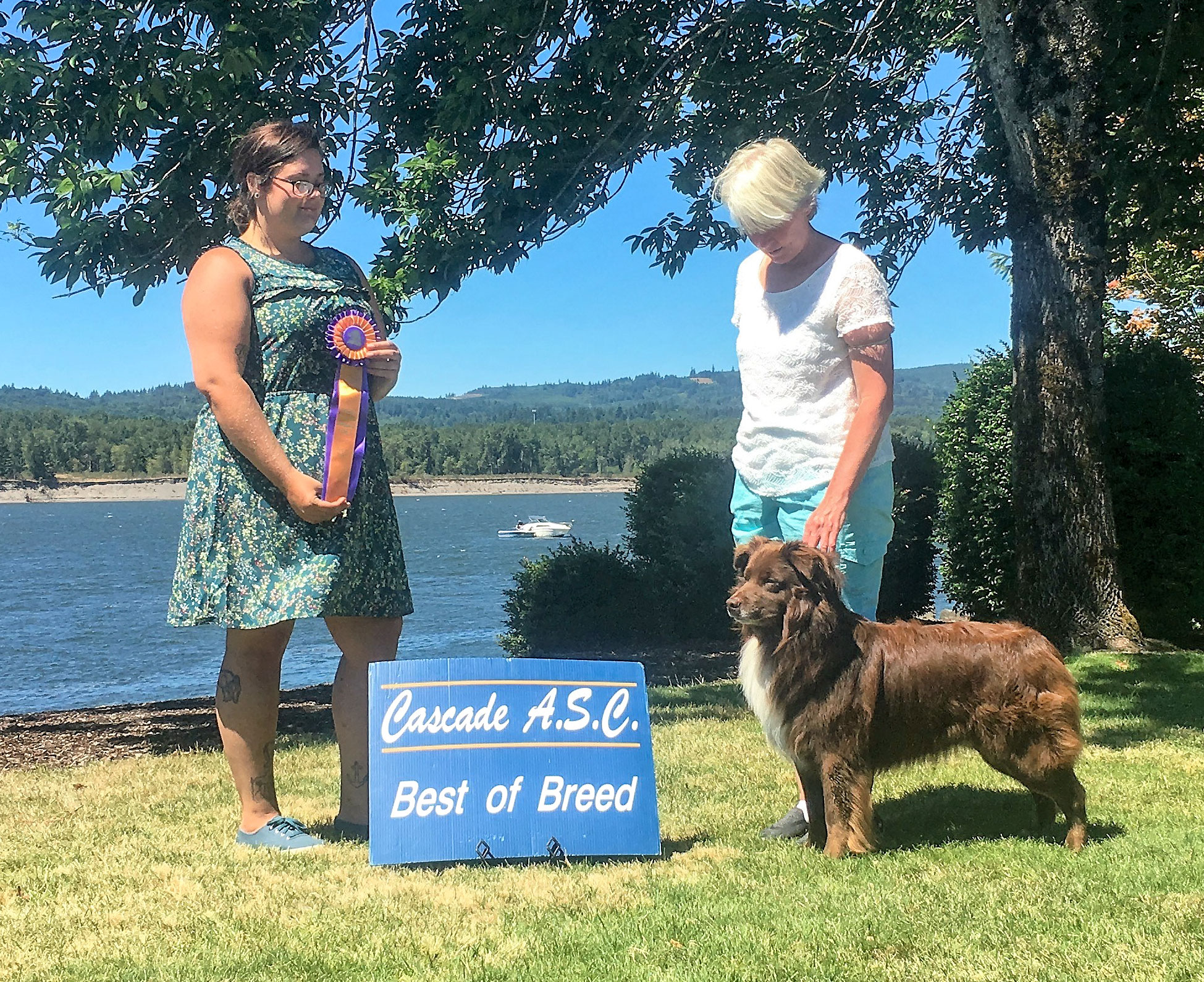 July 30, 2017:
Best of Breed. PBJ Kalla Jaco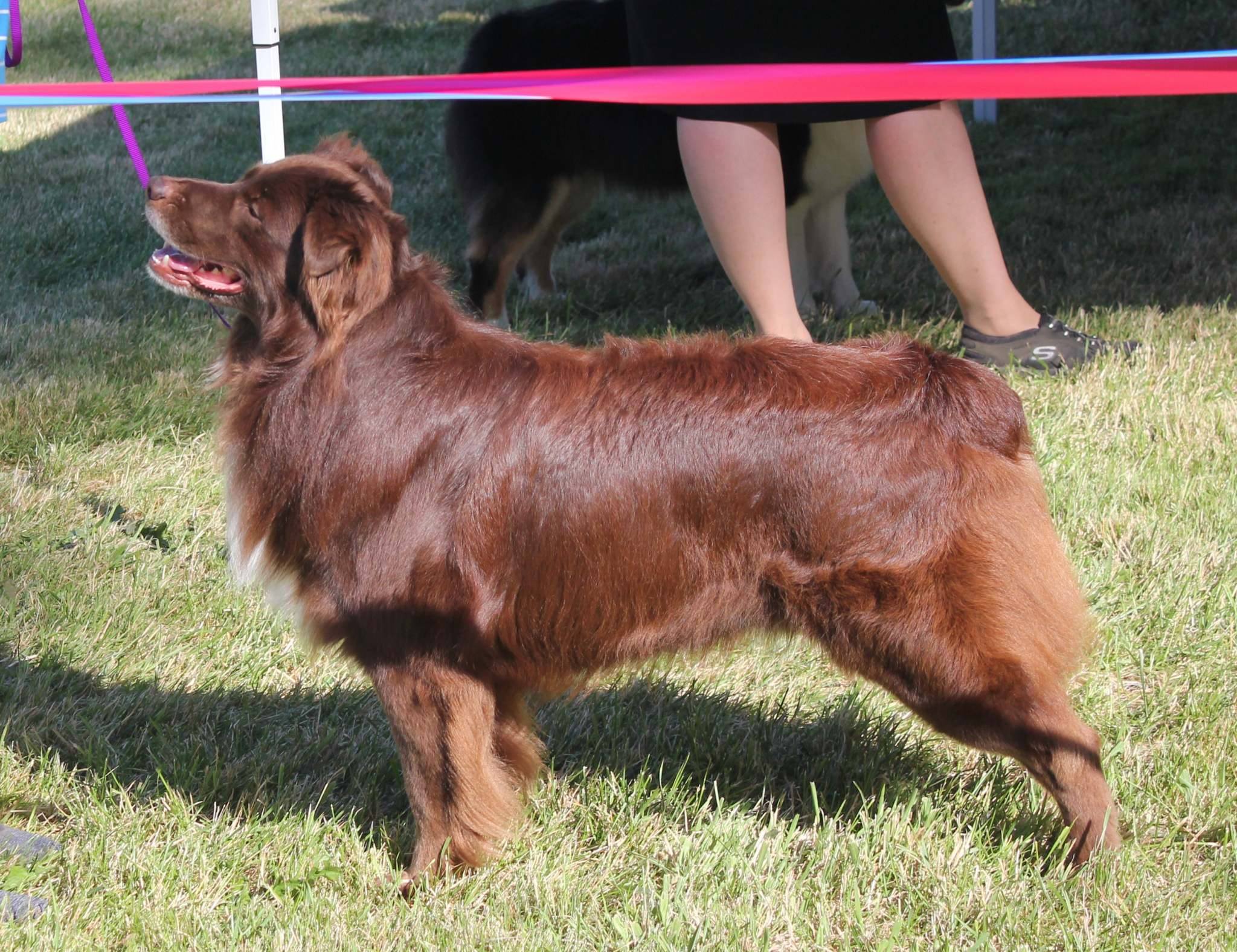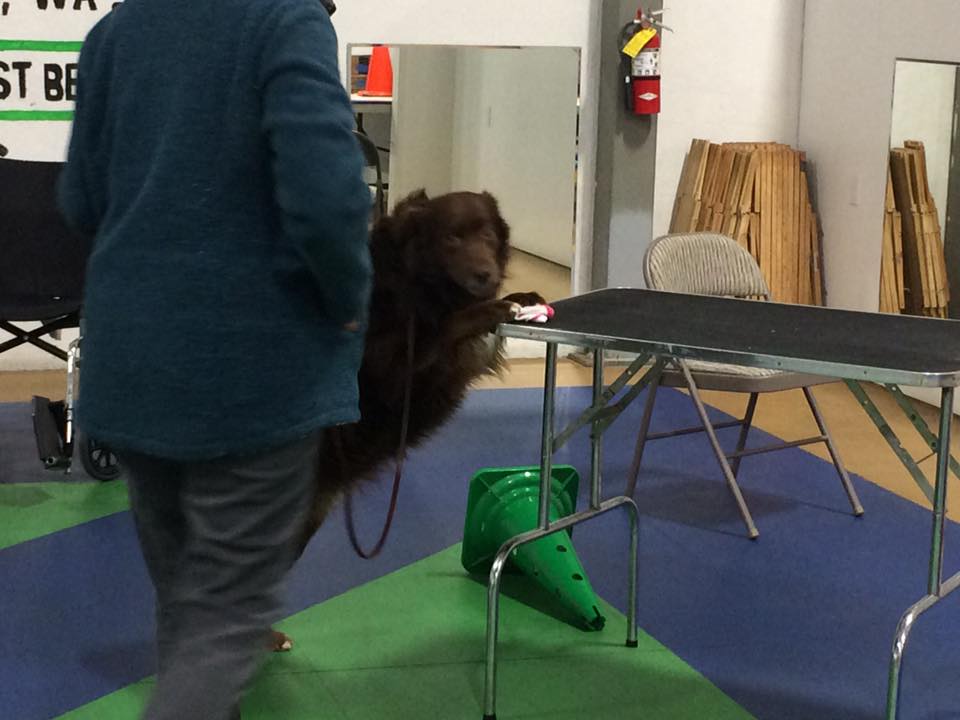 Ducati and his mom took Scent detection classes and did exceeding well. They work quickly and thoroughly to find the articles. I'm using this as a stepping stone for tracking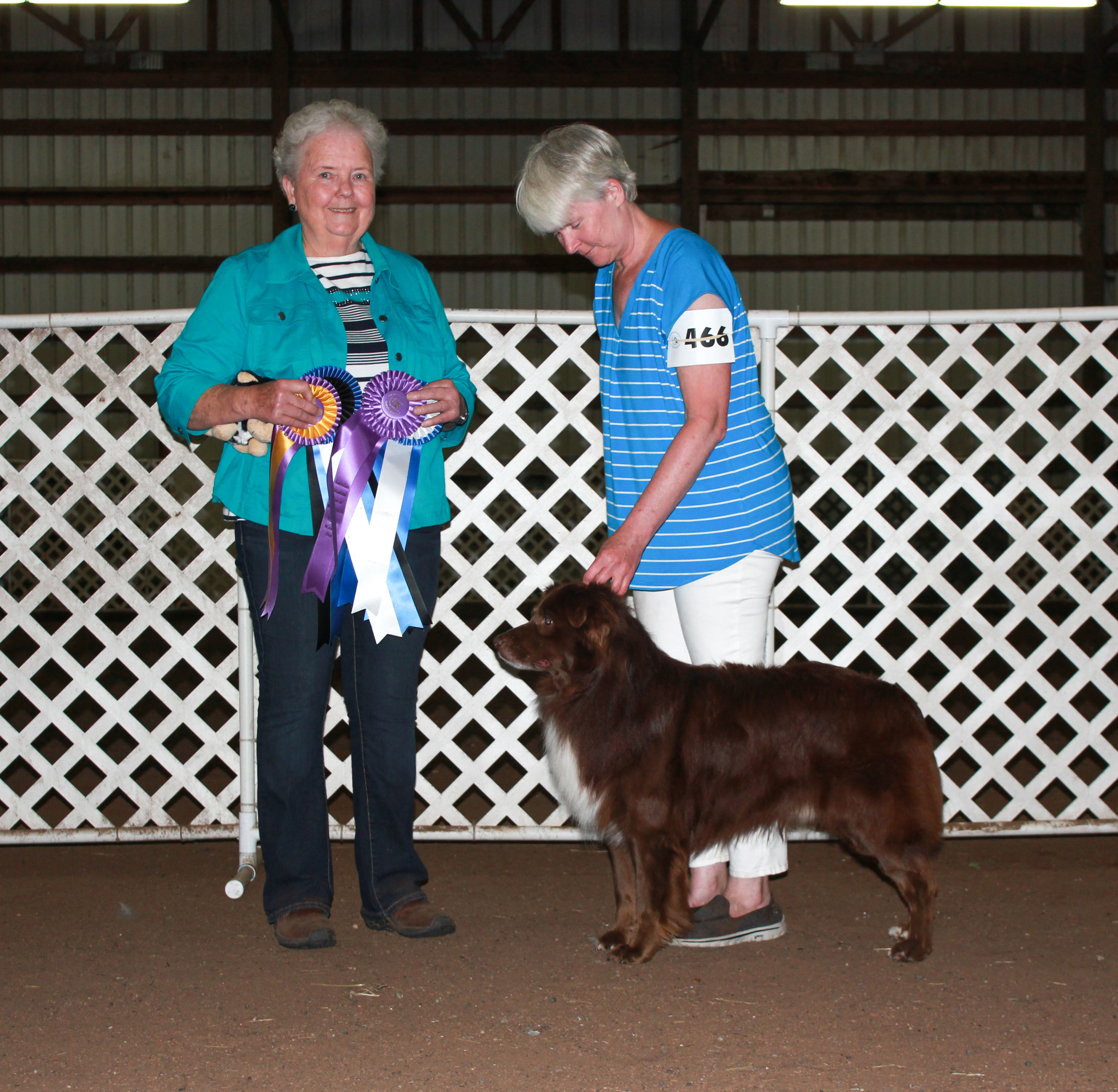 June 3, 2017:
Winners Dog, Best of Winners, Best of Breed Over Specials for 5pts To Finish.
SBJ Marie Murphy.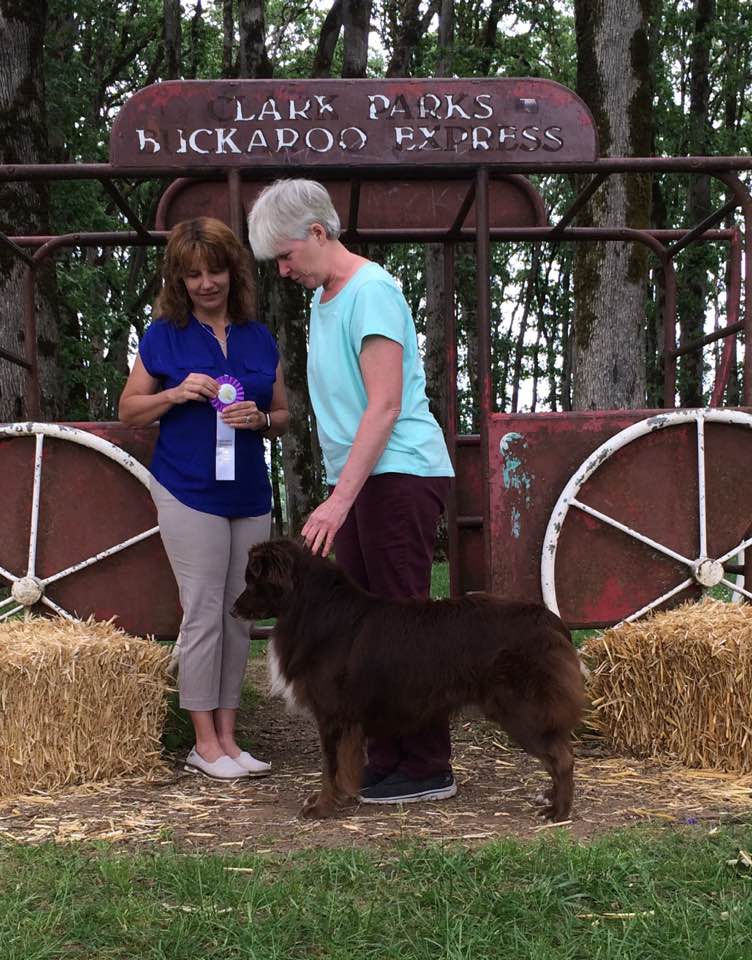 May 29, 2017:
Reserve Winners Dog, to 5pts.
SBJ Heidi Mobley.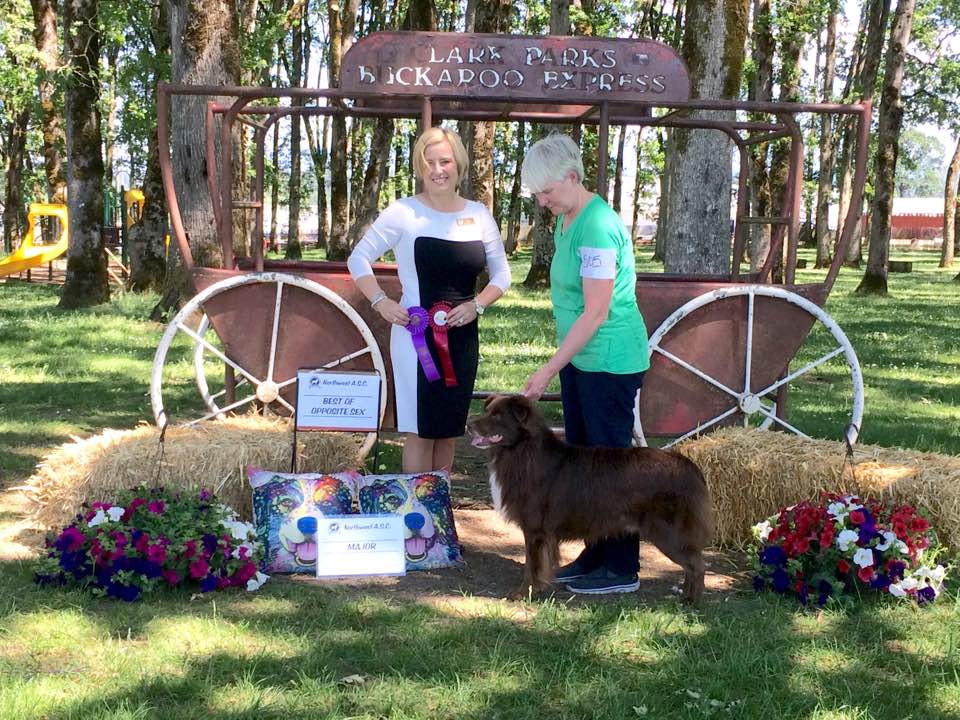 May 27, 2017:
Winners Dog, Best Opposite Sex Over Specials for 5pts.
SBJ Clarissa Lawson Shank.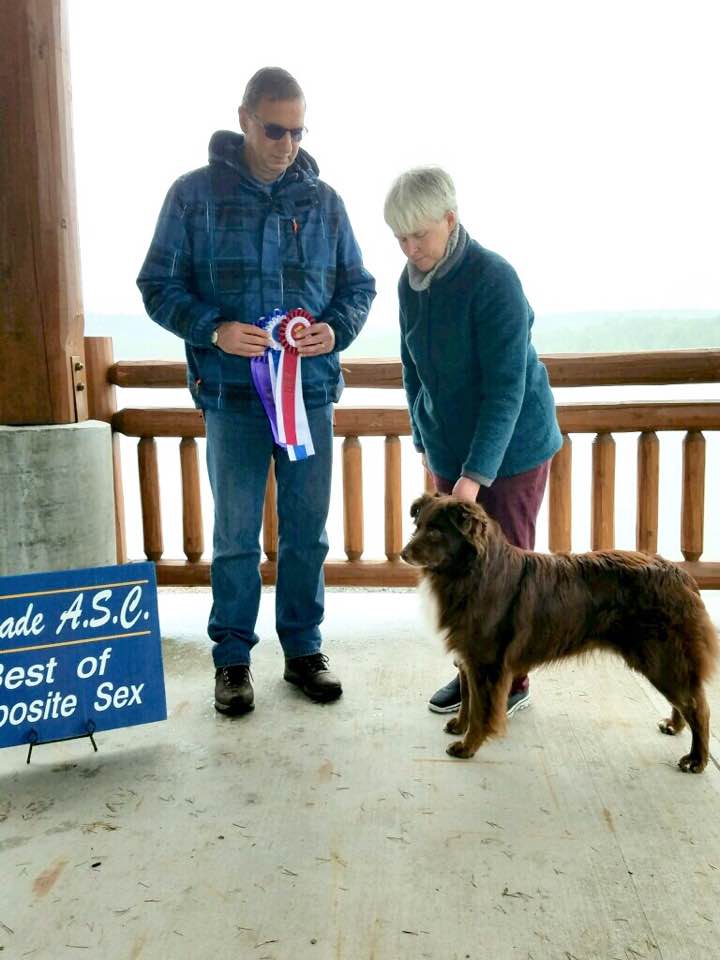 May 13, 2017:
Winners Dog, Best of Winners, Best Opposite Sex Over Specials for 3pts.
SBJ Peter Hellmeister.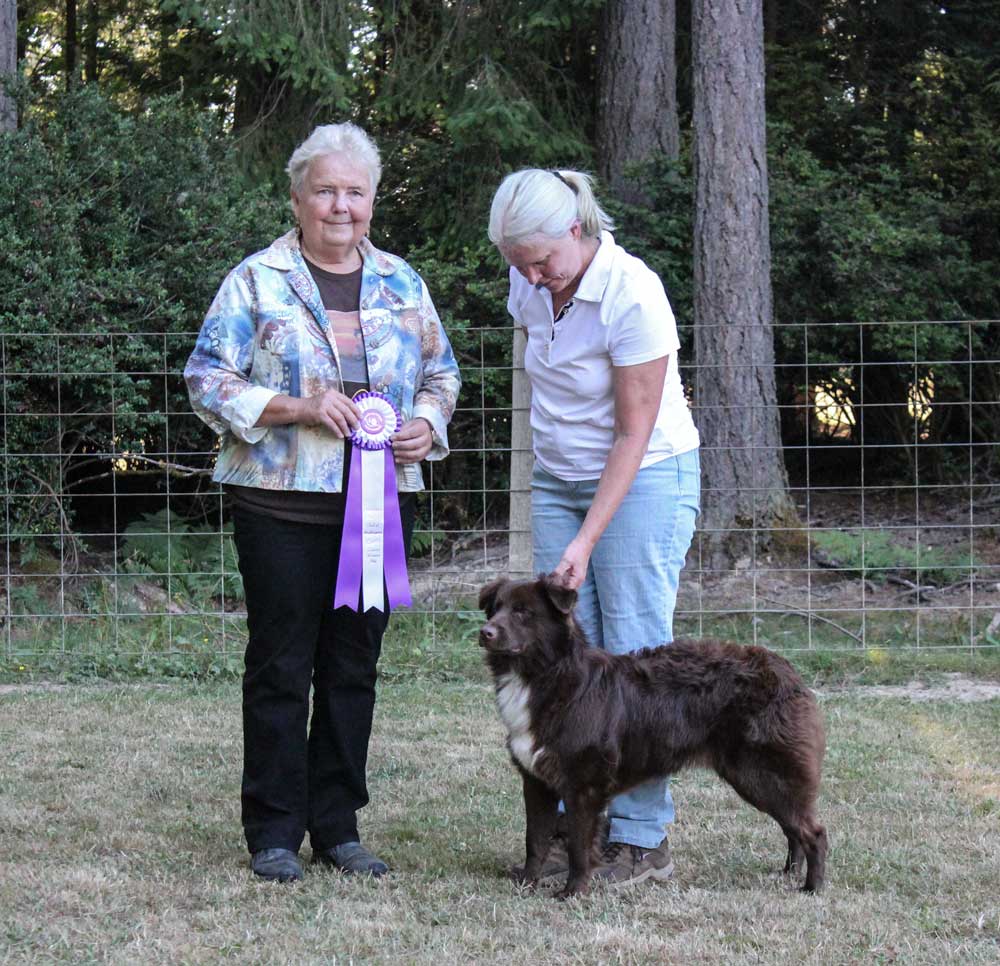 August 1, 2014:
Reserve Winners Dog.
SBJ Marie Murphy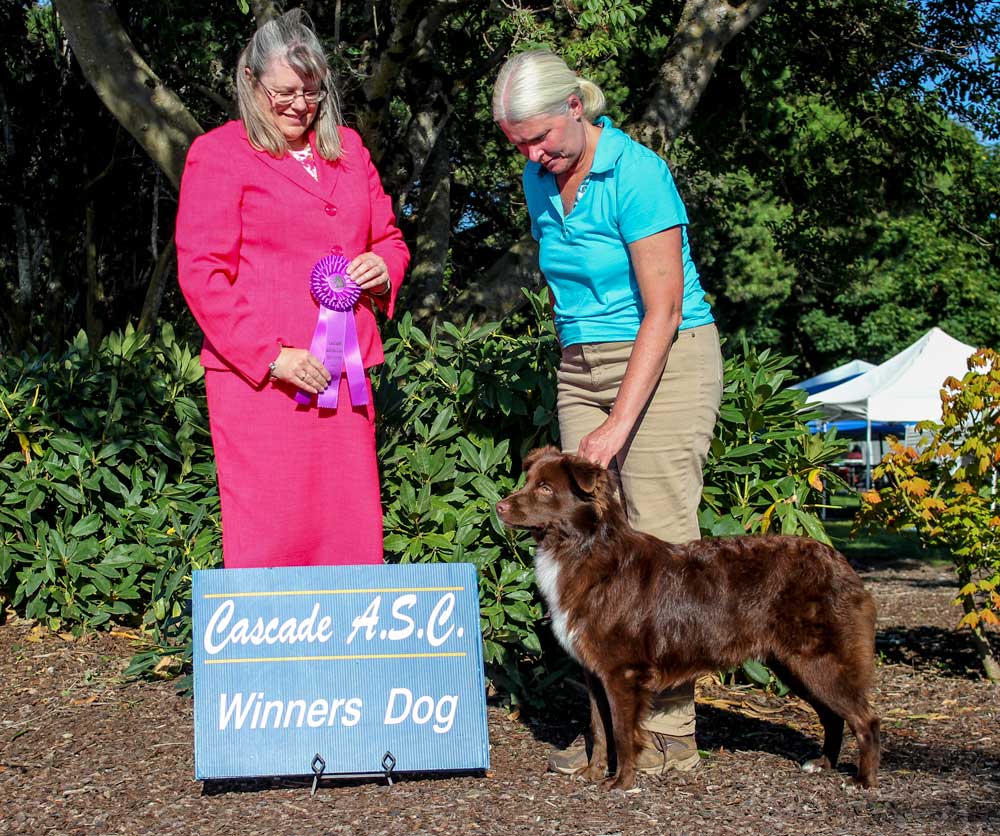 July 26, 2014:
WOW! At 8 mos. Ducati takes his first Winner's Dog for 2 pts.
Thank you SBJ Karen MacDonald!!! And his mother, Harley, took the Altered Winner's Bitch / Best of Opposite Sex at the same show!! WHOO HOO!!

Show Date

Judge

CLASS
Score
/

Pts


Place
26-Jul-14
KAREN M MACDONALD
6-9
2
WD
01-Aug-14
MARIE MURPHY
6-9
RWD
7-Jun-15
DEE DEE BALDWIN
BN
191
Q
7-Jun-15
DEE DEE BALDWIN
BN
190
Q
4-Jul-15
ELIZABETH H HAMMER
BN
191.5
Q
4-Jun-16
JOHN KNEPPER
STDs
33
4-Jun-16
CANBY SCOTT
STDs
74
Q
5-Jun-16
KATIE C VAN DE SANDT
CD
178
Q
2-Jul-16
BARBARA ARINE
RN
177
Q
2-Jul-16
BARBARA ARINE
RN
172
Q
13-May-17
PETER HELLMEISTER
CH
3
WD.BOW.BOS
27-May-17
CLARISSA L SHANK
CH
5
WD.BOS
3-Jun-17
MARIE MURPHY
CH
5
WD.BOW.BOB
3-Jun-17
MICHAEL GREENHAGEN
RN
170
Q
1-Jul-17
NOEL J RITTER
RA
182
Q
2-Jul-17
DEE DEE BALDWIN
CD
180
Q
2-Jul-17
DEE DEE BALDWIN
CD
173
Q
30-Jul-17
KALLA E JACO
CH
BOB
5-Aug-17
MAARTEN WALTER
CH
BOB
22-Sep-18
DENICE NORBY
RA
178
Q
23-Sep-18
SUSAN GRAHAM
GS-N
10
Q
27-Sep-18
HEIDI IVERSON
RA
175
Q
19-Oct-18
SCOTT LOVELIS
RS-N
10
Q
19-Oct-18
SCOTT LOVELIS
GS-N
10
Q
20-Oct-18
SCOTT LOVELIS
JS-N
10
Q
20-Oct-18
SCOTT LOVELIS
RS-N
10
Q
21-Oct-18
SCOTT LOVELIS
JS-N
10
Q
21-Oct-18
SCOTT LOVELIS
RS-N
10
Q
27-Oct-18
BARBARA ARINE
RE
195
Q
28-Oct-18
JILL PERRY
RE
170
Q
28-Oct-18
JILL PERRY
RE
188
Q
16-Nov-18
JOYCE ROESSNER
JS-O
10
Q
18-Nov-18
JOYCE ROESSNER
JS-O
10
Q
Ducati @ 7 mos - free stacked and movement (06-15-14); the movement shots took a while as he was more interested in what was going around him.
Ducati at 7 mos. Trying to get some movement video.
Ducati starting obedience training with clicker.
2/22/14: Ducati started basic obedience work: sit, down, stand with the clicker treat method. And he is phenomenal. With short sessions, he picked it all up that in one session. The next session I added the 'finish' without the sit. Then the sit at heel on the finish. Then added the 'heel' position while walking.

Ducati's first work with clicker on sit, down, stand @ 3 mos. 2/22/14

3/11/14: At four months of age with very little training sessions and all with clicker-treat, Ducati walks at heel with constant eye contact with me and is VERY happy while doing it. When we stop, he stops and sits. At front, with a hand signal, he returns to heel position and sit.

Ducati will do push ups: sit/down/sit/down. And will hop backwards from a down. Ducati still has a LOT of work ahead of him. Besides competition obedience, I have hopes to put that nose to work for tracking. Also, if I have the time, maybe some agility, and of course stock work.

3/22/14: We started working on something new this weekend: Bows.

Ducati 6 mos old (actually the day before he turned 6 mos.)

BOSP 05-10-14

PBJ SUSAN HARRIS

This was Ducati's first weekend out at the shows. He showed 3x in 4-6 with 3 BOSP wins.

The next day he showed with the big boys in 6-9.

Although he only placed 3/3, I was proud of him. He loved it and loved everyone there. Didn't flinch at the loud applause or yelling, etc. Just kept up his happy personality.
At 7 mos. we are still working on getting the body to move right :-) He is a character in the ring with loads of energy and wants to play with all the other dogs, humans, and anything else that may be around, like leaves. . . Love that attitude.
The obedience work is going great. We are working on stays. Unfortunattely, the heel work messes up with his ring work, as Ducati will look up at me the whole time on the down and backs so the front and rear legs are going eveywhere. Eventually he will get it figured out. One thing is, he nails and holds his free stack perfectly.
Ducati has gone from taking last in his class to almost consistently taking 1st place.