HOF DAM #682
A-CH WINSLOWS HIGH TONE WOMAN STDcds DNA-CP JSDA-N Sire:  Winslows Burning Ring of Fire ATDdc OTDs
Dam:  Winslows Double Trouble RTDs ATDds STDc (1 leg OTDc) HTD1ds
Harley has always been a fun dog to work - albeit she can be a little hard headed at times. She has perfect timing and very naturally squared flanks. She will work wide when necessary but has no issues about working in close. She's a happy, honest little worker who never wants to quit. And she's FAST.
February 24, 2013 - after almost 6 yrs of never working cattle (she was 6 mos old then), I trialed Harley for the first time on Cattle. WOW. Confident, smart, quiet and happy to work in tight spaces. Harley started and finished her Started Cattle run in two consecutive runs in one day with impressive scores. She is awesome and so talented!
Even though she got rolled/trampled once, and kicked or kicked at a few times, she never opted to quit. She knew when to get to head, tried her best to keep them together and at the end of it all tried to get back in to the pens to work some more.
Her take pens were great, slipping in and to the back to bring them out like she had been doing this all the time.
Plus she is so biddable as well as kind to her stock, never taking pot shots to rile them up. What a good dog and so fun to work. She truly makes me happy and is her mother's daughter in many ways with that extra bump of biddability from her dad!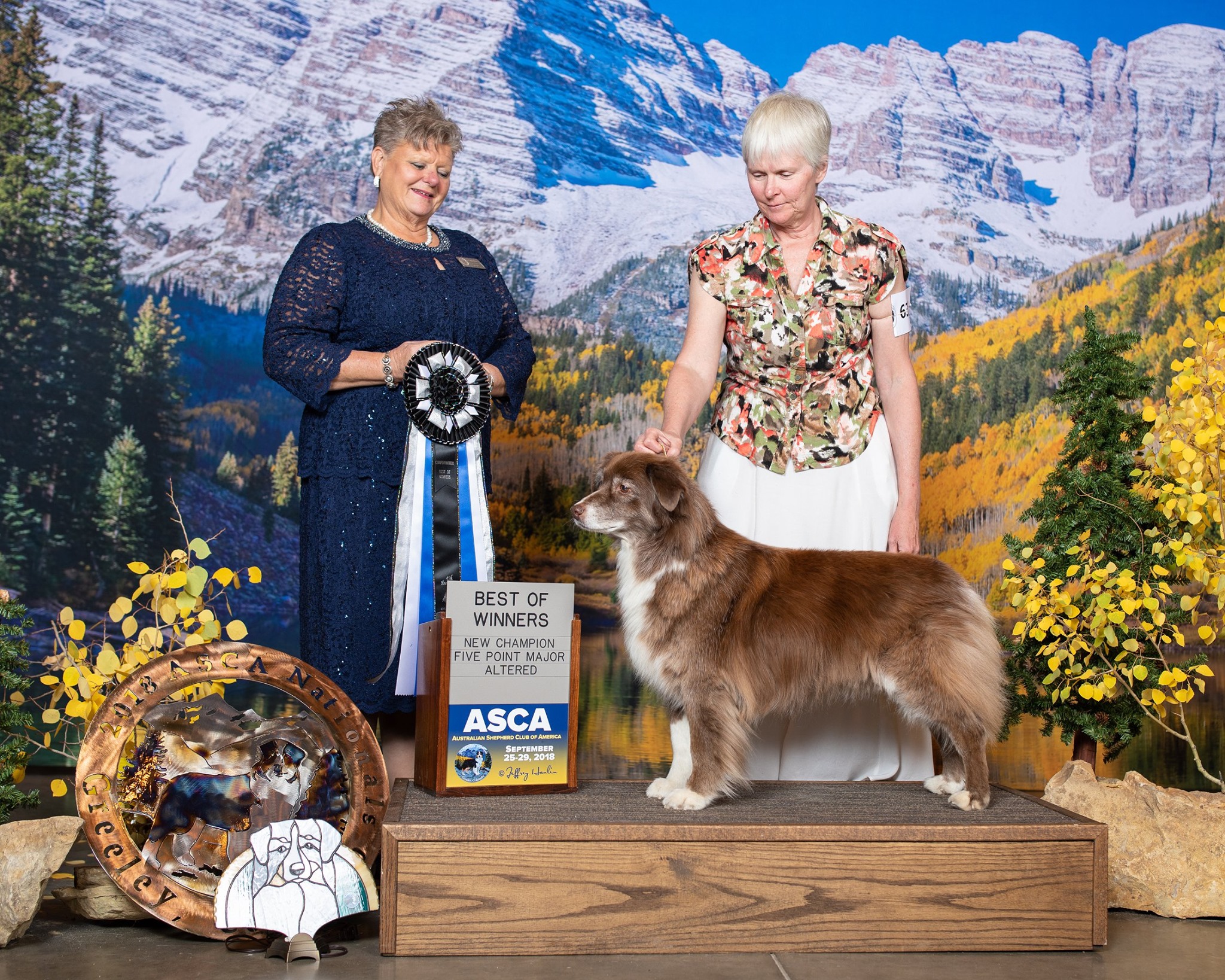 WINNERS BITCH - BEST OF WINNERS - ASCA 2018 NATIONALS (5 pts)
SBJ GLENDA STEPHENSON
WHAT AN HONOR THIS WAS!
THANK YOU!!!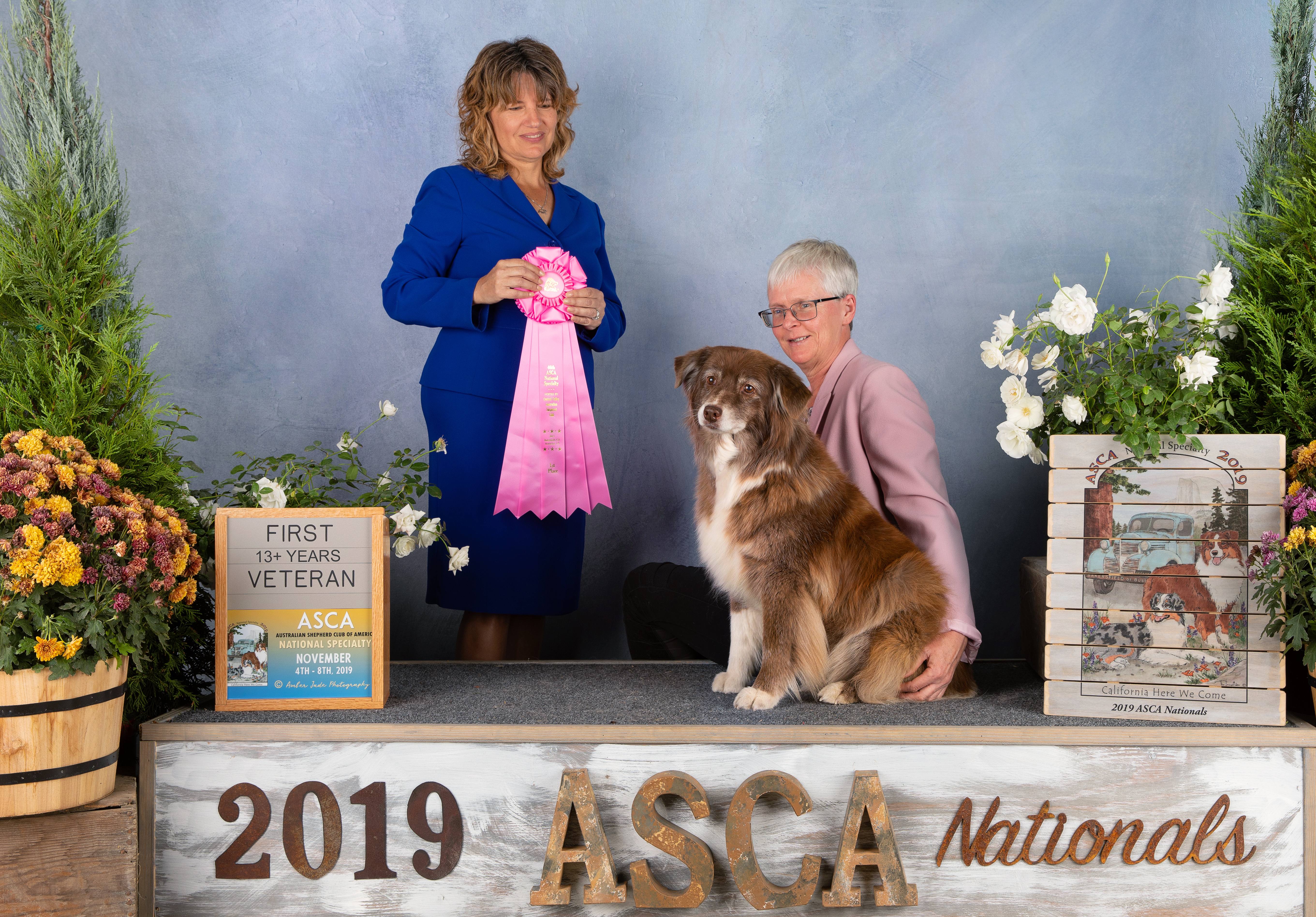 1st Place 13+ Veterans - SBJ Heidi Mobley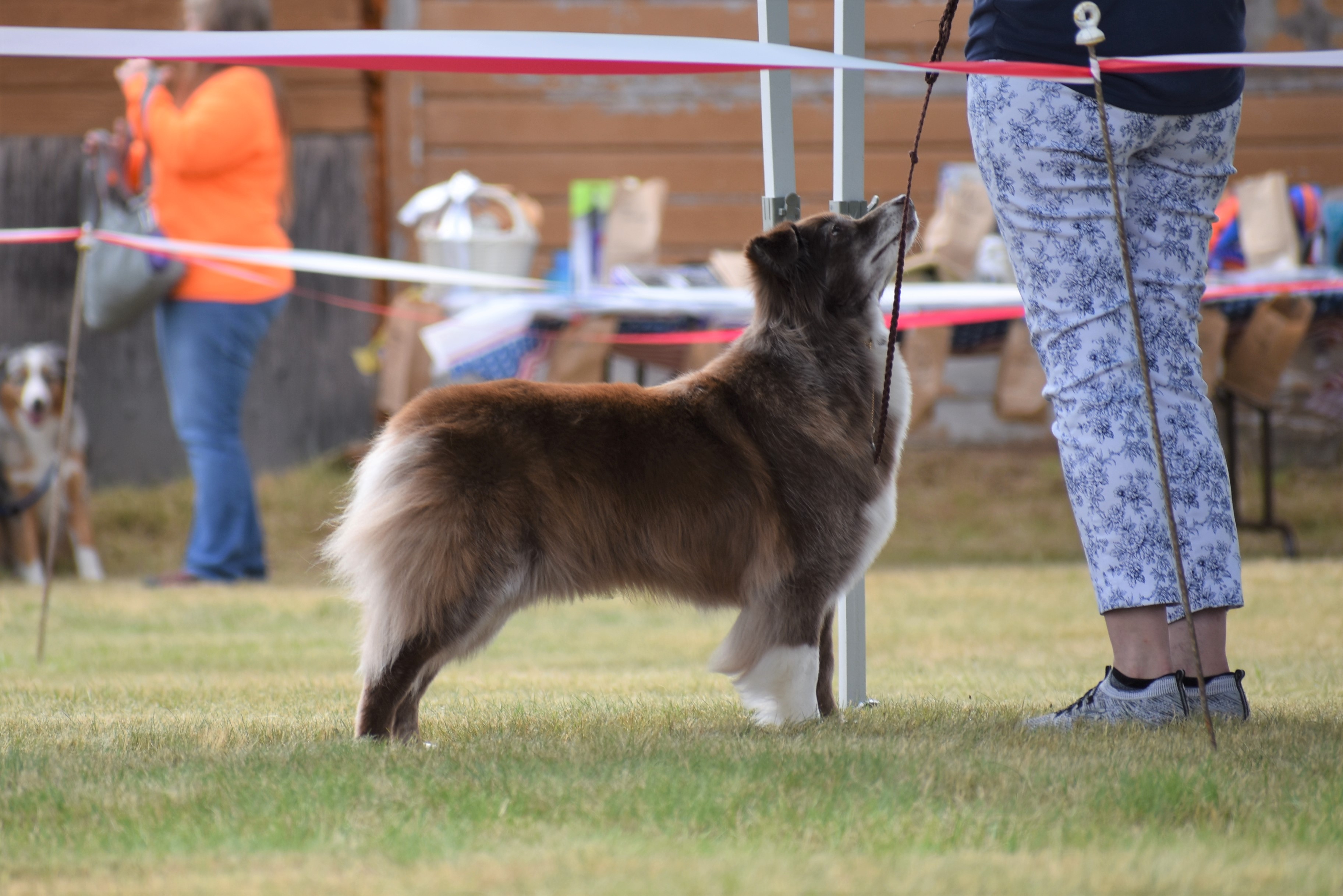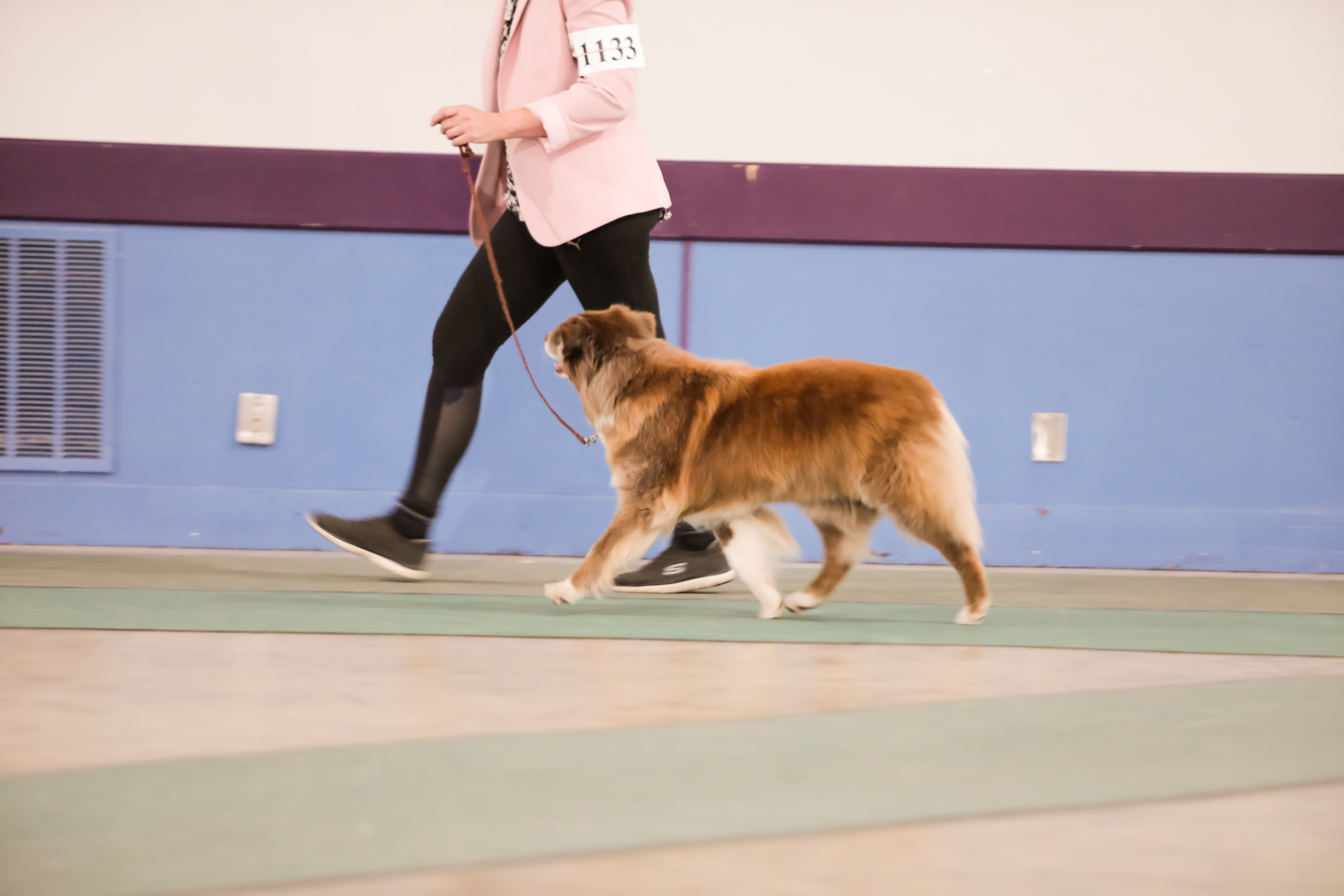 2019 ASCA NATIONALS
ALTERED BEST OF BREED CLASS
Winner's Bitch, Best Opposite Sex (3pts)
to Finish her A-Ch under Sr Breeder Judge Wendy Finsterwald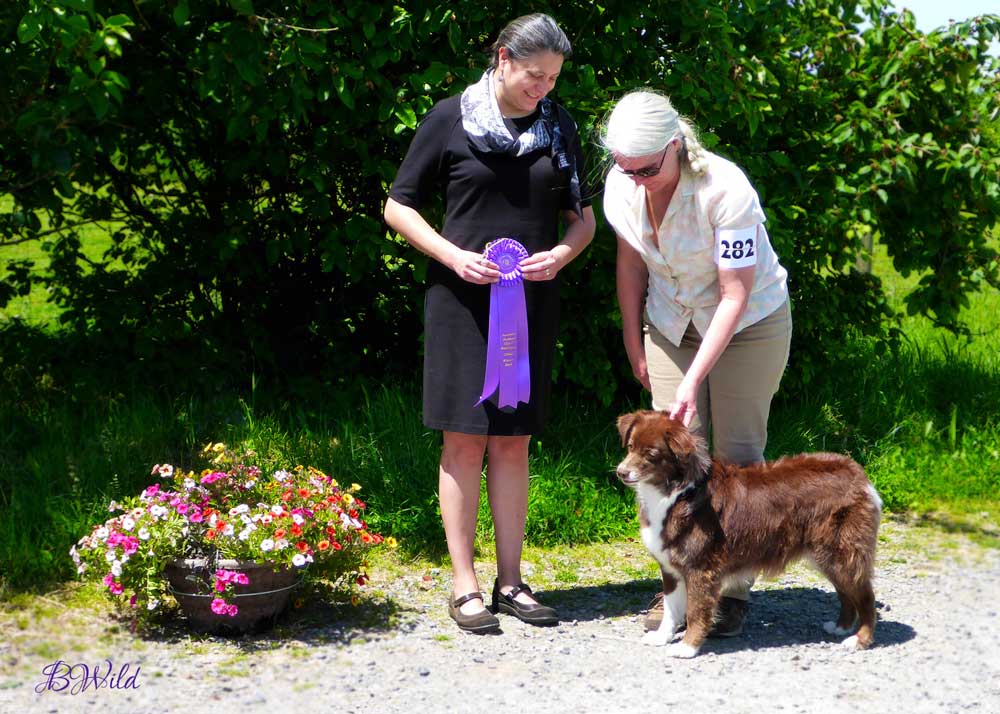 Winner's Bitch 05-31-14 (1pt)
SBJ Andrea Torres
Thank You Tanya Barker for this shot.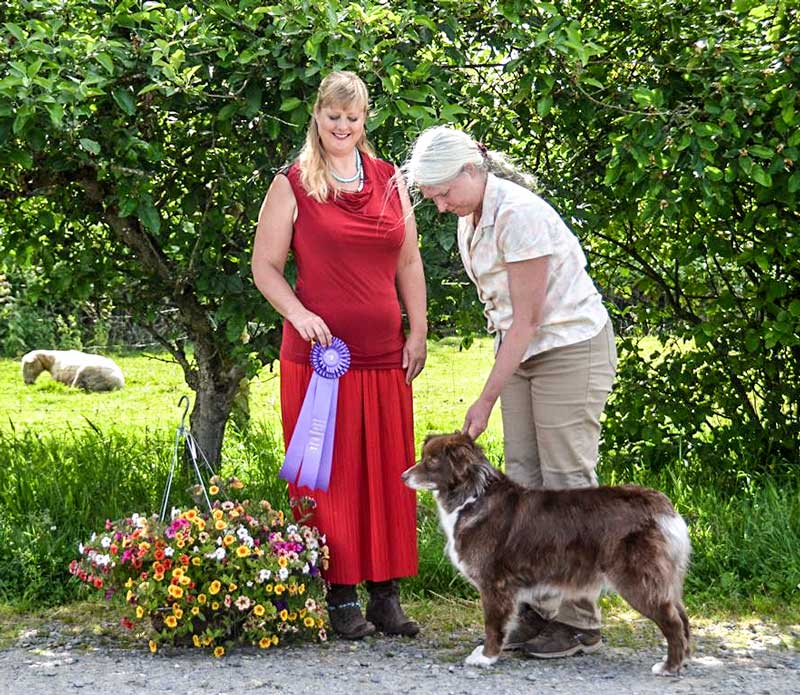 Winner's Bitch 05-31-14 (1pt)
SBJ Shelly Hollen-Wood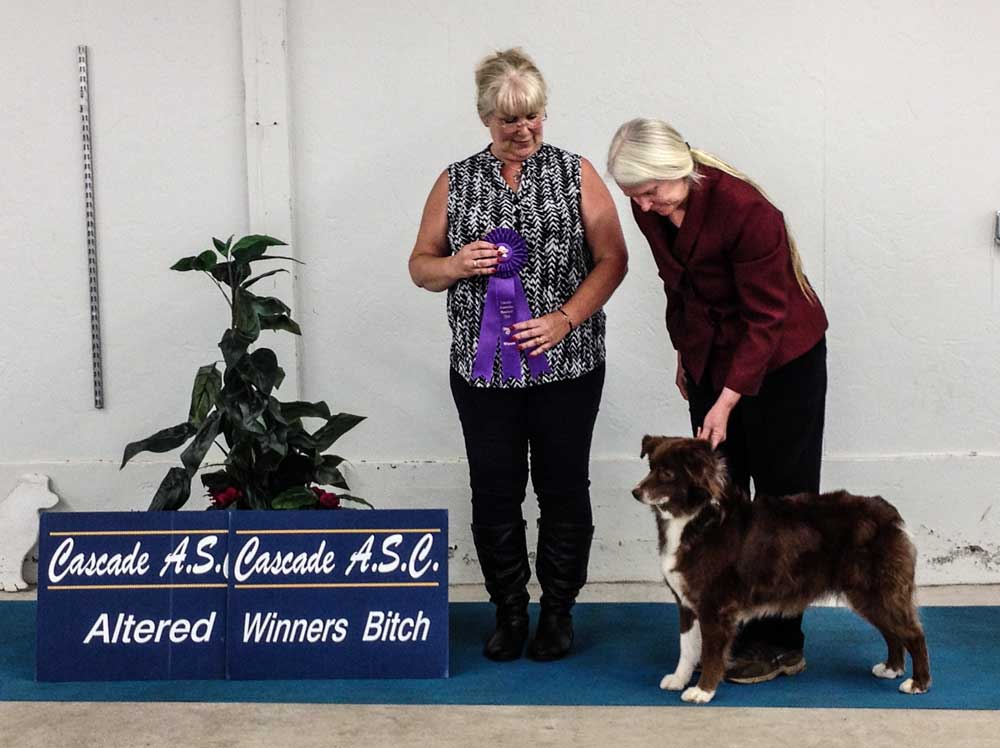 Winner's Bitch (2pts)
PBJ Susan Harris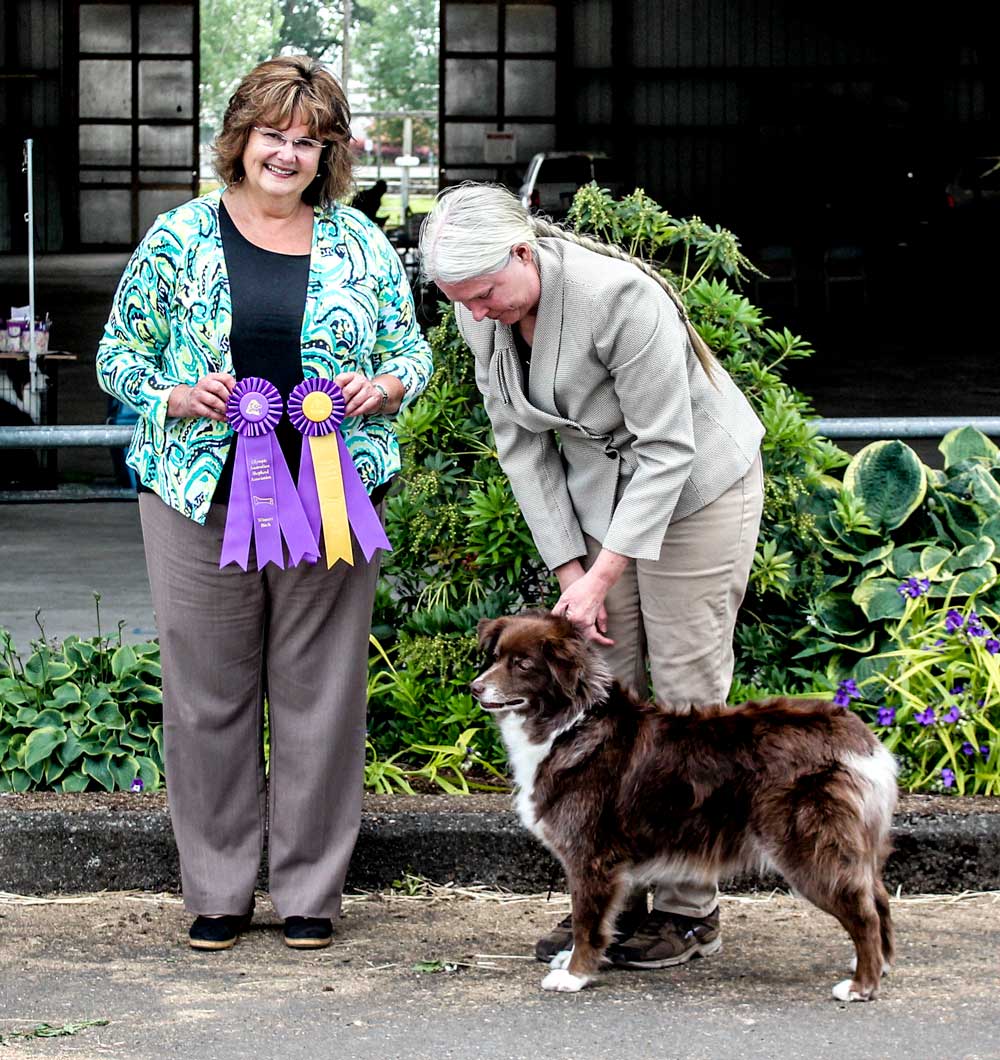 Winner's Bitch/Best Of Breed 06-14-14 AM/PM
Shown with PM Judge SBJ Kiddy Christie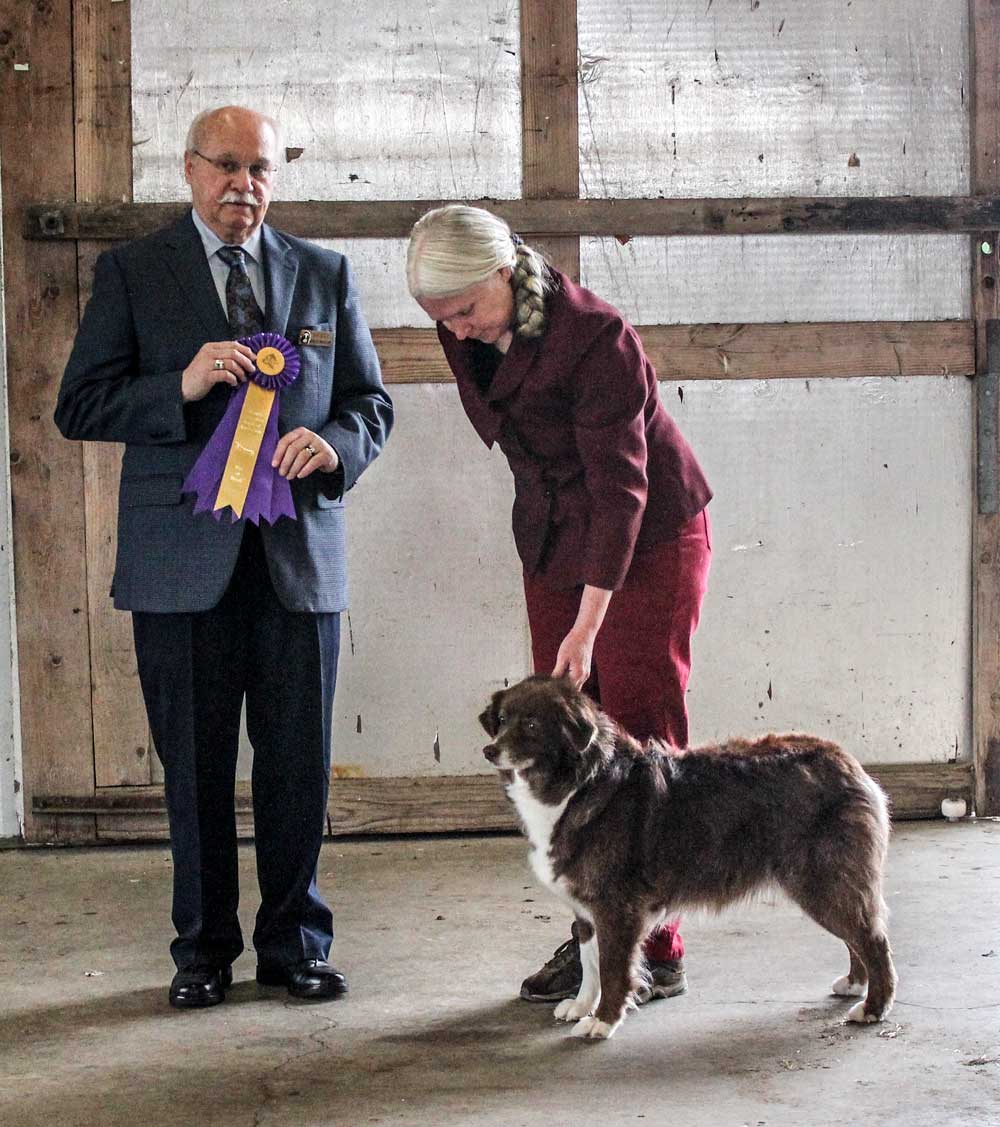 Winner's Bitch / Best of Breed over Special (1pt)
AKC Judge Douglas McFarlane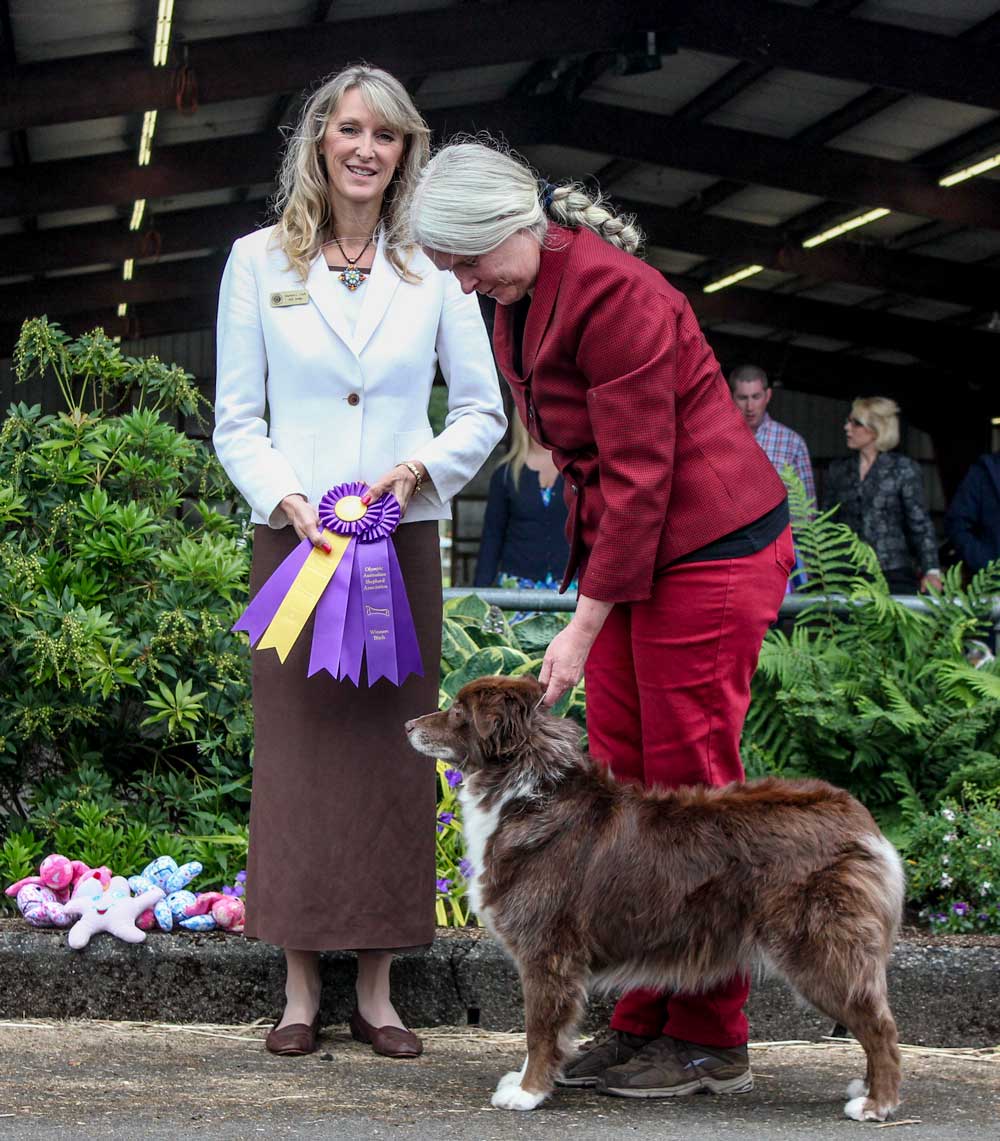 Winner's Bitch / Best of Breed over Special (1pt)
AKC Judge Marissa Clark
(shown with all her 'loot' = the stuffed toys! )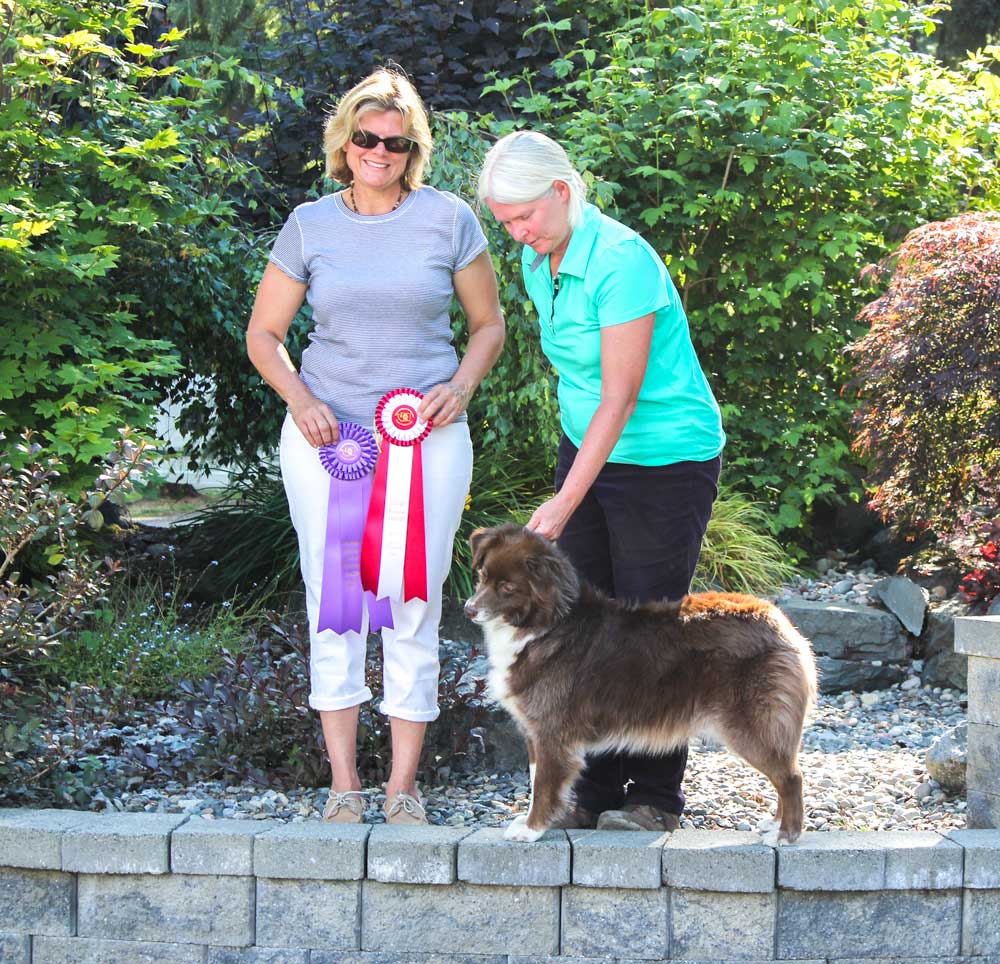 Winner's Bitch/Best Of Opposite Sex 07-06-14 PM (1pt)
Shown with PM Judge PBJ Kelly Sweeney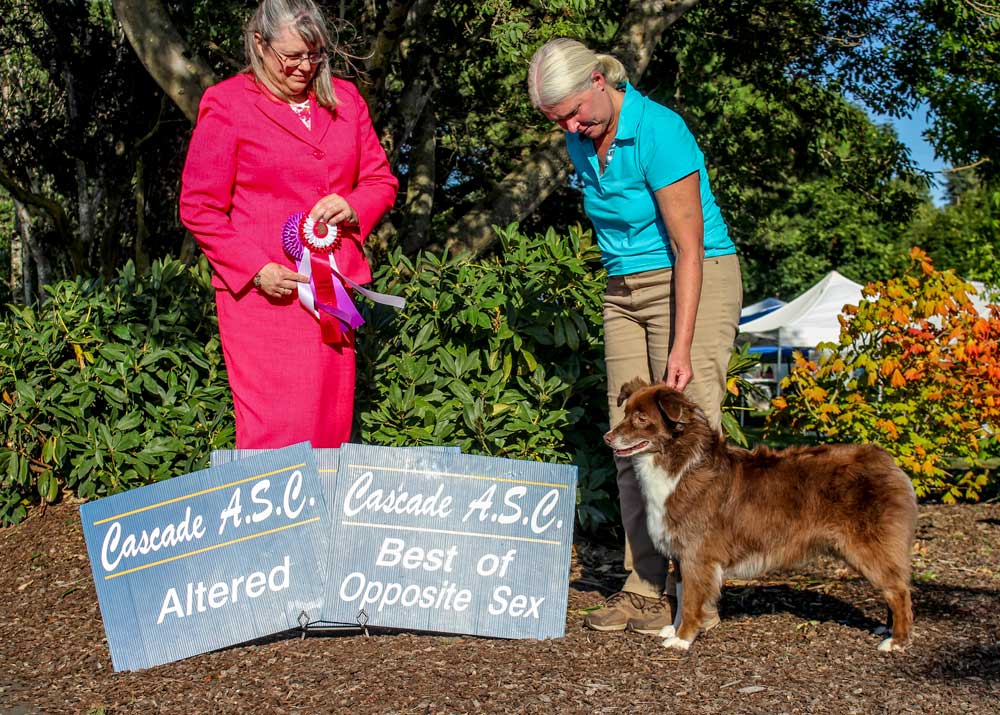 Winner's Bitch/Best Of Opposite Sex 07-26-14 (1pt)
Shown with Judge SBJ Karen MacDonald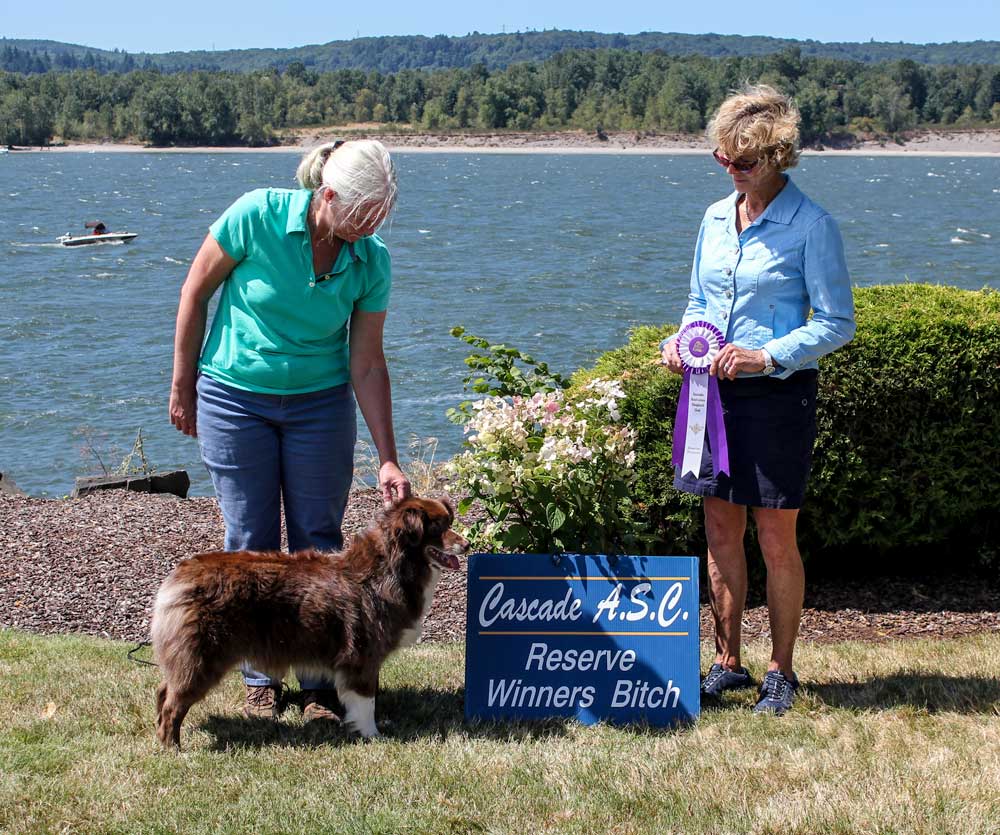 Reserve Winner's Bitch 07-27-14
SBJ Lindy Patrick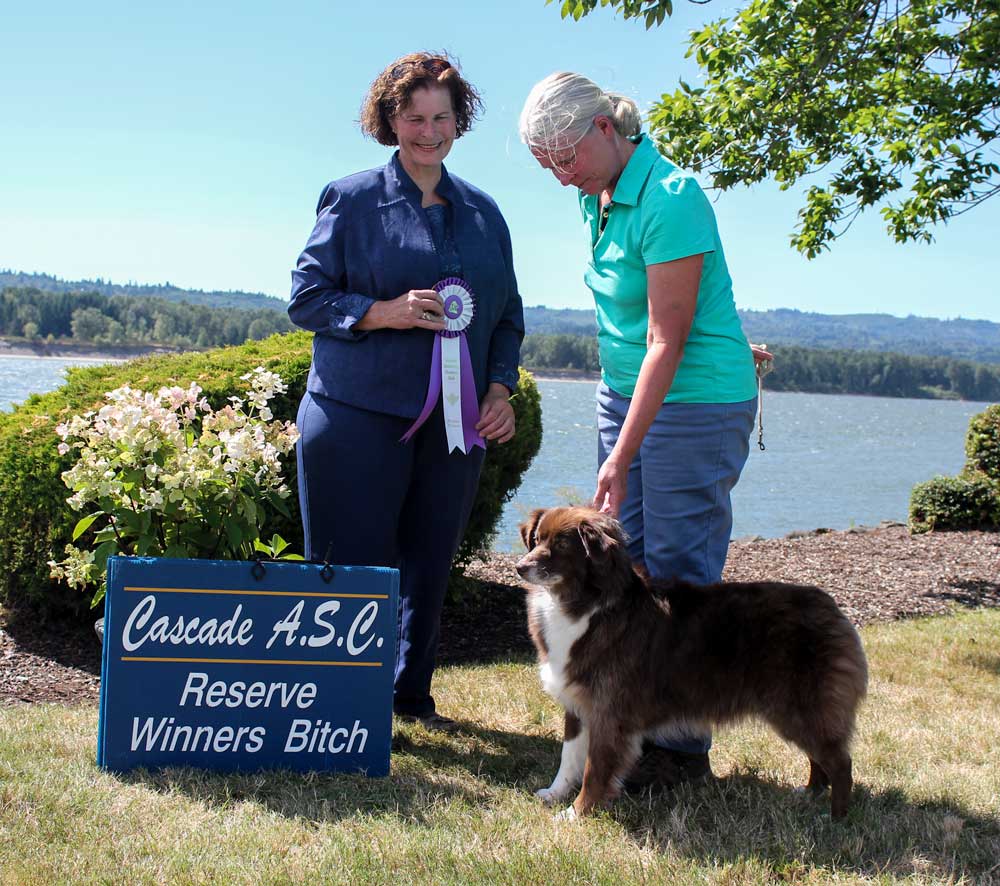 Reserve Winner's Bitch 07-27-14
SBJ Lynn Cobb Conn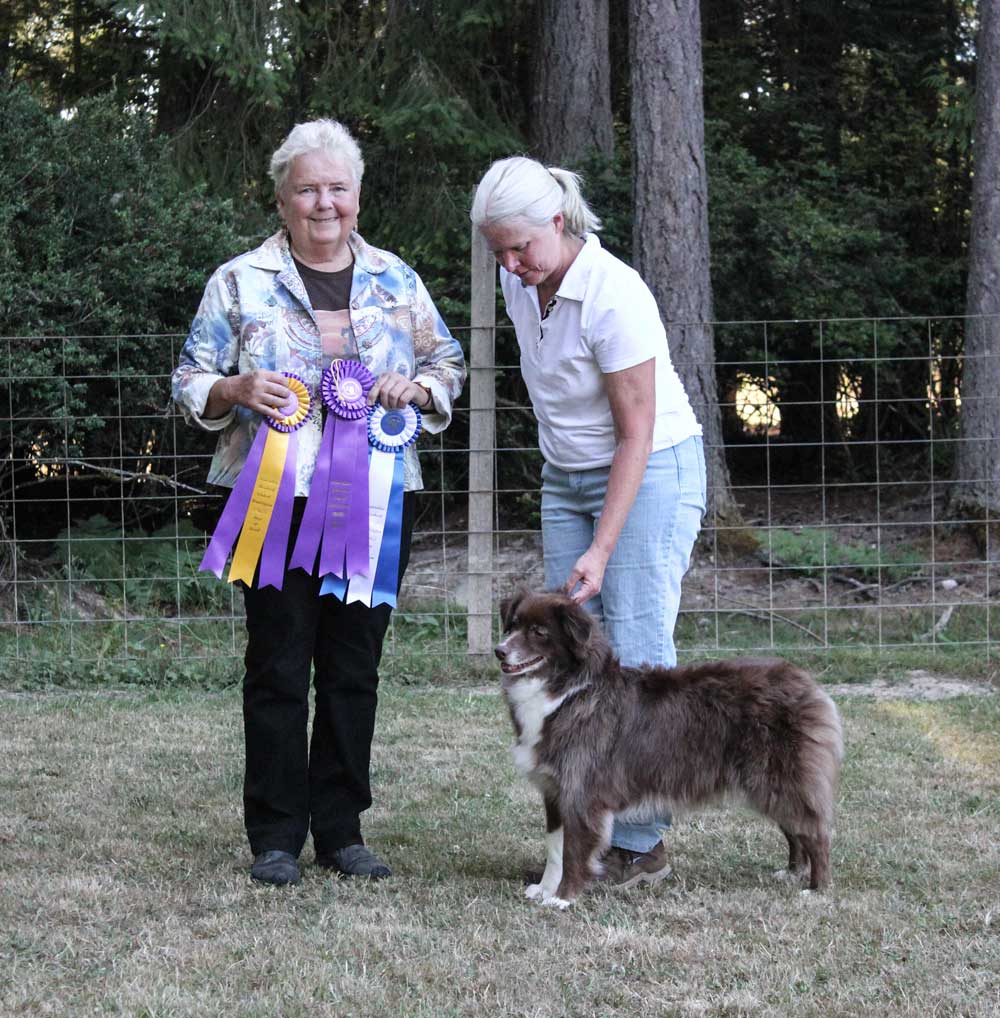 Winner's Bitch / Best of Breed 08-01-14
SBJ Marie Murphy
Below are links to videos of Harley.
Other videos of Harley working: Harley on sheep at 4 mos. Large Flock Chores
Below are pictures of Harley as a newborn.

The three reds
Billy, Rose, Harley
Harley's two pups by Spin
Click here for pedigree of litter
Ducati
CH WINSLOWS TAKN HARLEY FORA SPIN ATDcs OTDd BN CD GS-E JS-E RV-E RM DNA-VP
Torque
WTCH WINSLOWS TAKN ASPIN ONA HARLEY BN OFTDs ATDdsc GSO JSN RSN RM DNA-VP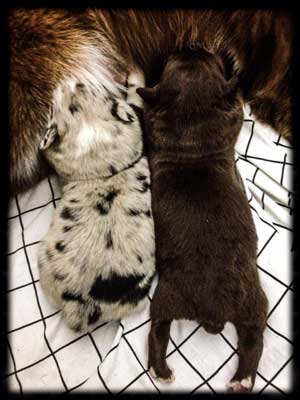 For those who don't know Spin, well, he is just awesome. I've been watching him grow up since he was a pup and he has been just a wonderful dog in all ways: temperament, structure and of course, working style and ability. DOB 5/2/06 * OFA Good * Elbows Normal * HFS4 Clear * MDR1 mutant/normal.
Spin is strong on cattle, works wide on sheep and is very biddable. He has won multiple HIT, High Combines and is a Finals competitor. He is a beautiful blue bi with good solid structure. Spin has an excellent outgoing temperament, loves children and gets along well with other dogs. I think he will compliment Harley very well.
I have always admired Marti's dogs since I first moved up here to Washington and was introduced to Lucy, Birch and Souix. I missed the chance to breed to Marti's Jack so I'm not going to let this opportunity pass!
Marti was also one of the main people in the working world who took the time to help me evaluate my dogs and really got me started working my dogs, appreciating working dogs and I thank her for that. Needless to say, I am really, really, really excited about this cross.