The Ones Who Started It All . . .
My first Aussie was Chase (aka Winslows Chase Illusion o'Blu-Star, TT CD HC - pictured on the left; Tareyton is on the right), a black tri male purchased in 1987 from Pam McCollum (now Hosack) of Blu-Star Aussies in California. Chase was a great companion up until his unfortunate early death in 1993. I originally had a red merle female in mind to go horseback riding with - but, well, that came later. Chase had a wonderful loving temperament and would do all for me - true Aussie spirit. I think at times that his spirit and personality came back to me in the form of Brussels, Iona's red tri son from Jake. He was started on sheep and passed his AHBA HC at one year of age.
My second Aussie and Winslows foundation dam was Tareyton - (asca/can Ch. Blu-Star's Rather Fight Than Switch, asca CDX, STDd, akc/ckc CD) again purchased from Pam McCollum in 1987. I brought Tarey home at 8 weeks of age and she immediately took over the house! A little trooper, this girl started out riding with me from day one and kept it up - even when pregnant with her first litter! We worked ducks, sheep, goats and cattle together and learned a lot.
Tarey was an incredibly intelligent dog who I have linebred on continuosly in order not to lose that wonderful attribute I find lacking in a lot of Aussie lines. Although she did not finish either Championships until after 6 years of age, I am proud to have accomplished all of her titles and designate her as my foundation dam!
Mission Statement
I am dedicated to the preservation of the true Australian Shepherd. One that is a structurally correct, self-thinking stock dog,a well as a wonderful, loving family companion.
My dogs are not meant for everyone and I am strict in my placement procedures as well as breeding practices.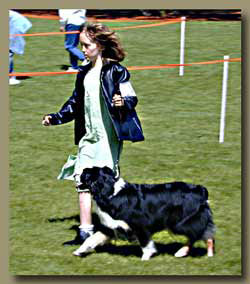 With this in mind, I ask you,
'What are you looking for in a dog and, in particular, an Australian Shepherd?'
Also, my breeding goals stem over generations to improve the quality of each generation without excessive yearly breeding. I may have a litter once in three or so years - usually after I have watched the current litter mature. I like to enjoy my dogs as they grow and are tested in a variety of areas.
Raising a litter takes quite a bit of my time as they are whelped in the house and do not get weaned from their dams until 10wks or so. This also restricts the activities of the dams.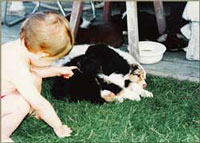 So, Winslow bred dogs are not readily available, although I may have an adult available at times.
Check the Special Events for future plans.