Special Events
I only produce one litter a year - if that - as I concentrate more on training, working, trials and individual dogs
If you are in Europe, I will only ship via MartinAir from SeaTac Airport in Washington. Monetary value = EU.
Non Refundable Deposits is required to be placed on the waiting list. Balance to be paid by the date of birth. All puppies are docked by three days of age - no exceptions.If there are more deposits then puppies born, Buyer is responsible for all medical and shipping expenses and must be paid in full prior to shipment. If buyer changes mind on puppy picked, deposit is forfeited. If buyer places responsibility on breeder to pick puppy, and buyer then changes their mind on choice, deposit is forfeited.
Eyes are checked on sire, dam and all puppies. All sires/dams are OFA'd, DNA'd and registered with at least ASCA.
Current Puppy Price: $850.00 - 1200.00
(A non refundable deposit of $250.US required to be placed on waiting list)
Litters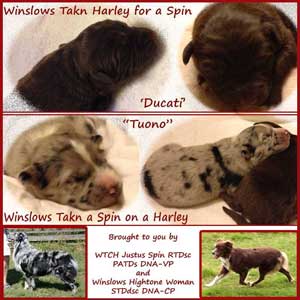 On Veterans' Day (11/11/13) Harley (Winslows High Tone Woman DNA-CP STDsc) and Marti Parrish's Spin (WTCH Justus Spin DNA-vp RTDsc PATDs) produced two beautiful boys. One dark red bi and one blue merle bi. ASCA/AKC registered.
For those who don't know Spin, well, he is just awesome. I've been watching him grow up since he was a pup and he has been just a wonderful dog in all ways: temperament, structure and of course, working style and ability. DOB 5/2/06 * OFA Good * Elbows Normal * HFS4 Clear * MDR1 mutant/normal
Spin is strong on cattle, works wide on sheep and is very biddable. He has won multiple HIT, High Combines and is a Finals competitor. He is a beautiful blue bi with good solid structure. Spin has an excellent outgoing temperament, loves children and gets along well with other dogs. I think he will compliment Harley very well.
I have always admired Marti's dogs since I first moved up here to Washington and was introduced to Lucy, Birch and Souix. I missed the chance to breed to Marti's Jack so I'm not going to let this opportunity pass!
Marti was also one of the main people in the working world who took the time to help me evaluate my dogs and really got me started working my dogs, appreciating working dogs and I thank her for that. Needless to say, I am really, really, really excited about this cross.
I look forward to seeing these two pups grow up. Neither puppy are available.
Currently, Ducati, the red bi male, is point in ASCA from the 6-9 mo. class!