ASCA/Can CH Blu-Star's Rather Fight Than Switch, ASCA CDX, Am/Can CD, STDd (1 leg STDs)
Sire: Copyright of Windermere
Dam: Ch. Essence of Happy Days CD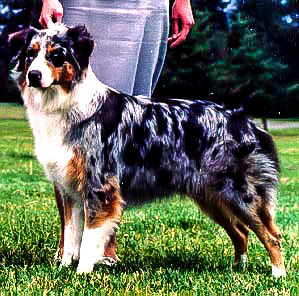 My kennel is founded upon my bitches. I was lucky to have started with a very intelligent and versatile girl, Tareyton - aka ASCA/Can CH. Blu-Star's Rather Fight Than Switch, ASCA CDX, Am/Can CD, STDd (1 leg STDs).
Tarey started her career at the young age of 2 months with many Best Puppy and Best Opposite Puppy wins in tough Southern California competition. At 10 months, Tarey competed and gained her first leg on her CD. In the Spring of 1988, we moved to Washington State where we met a host of new people and new dogs. In the Summer of 1988, Tarey's first time out in the ring since California, she came away with Two Reserve Winner's to 5 point Majors! Judges were Ted Luke and Chuck Krueger - both who later went on to give Tarey her two last majors and both with Best of Breed wins over top Specials!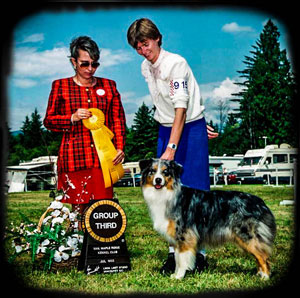 Tarey took time off periodically from the show scene to whelp her only two litters. In between those times, she was able to get out to the shows and pick up her first 5 pt BOS/BOW under judge Dennis Morgan and 4 pt Major under Judge Claire Lincoln.
The Summer of 1993 was one of our happier times as well as sad times. In June of 93, Tarey was handled to her first Breed wins for another 4 point major. Unfortunately, it wasn't but a few days later that we learned Chase, her buddy from the time their were pups, had to be put to sleep due to internal bleeding and other complications. In his memory we devoted finishing Tarey's Championship to him. Tarey later went on to gain another major reserve that month and finally, in July on her daughter Juli's 4th birthday, she went Best of Breed again to finish her ASCA Championship AND her ASCA CDX followed by her first leg on Started Sheep!
Later that month, Tarey went to Canada and picked up 9 points and two legs on her CD plus a Group placement in the two days shown. It was touch and go whether Tarey would be back in the ring after July as she had flipped over and landed on her back onto a concrete block that had been covered with moss and grass. I knew something was definitely wrong when she couldn't walk up stairs and just sat at the bottom. Fortunately by the time the 1993 Nationals came around, she was back up and running. At the Nationals she finished her Started ducks title along with her daughter Geawure.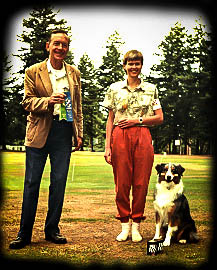 In the Spring of 94, we went back to Canada with her son, Bryan, and finished going Breed. Later that year, Tarey and her daughter Juli went back to Canada to finish their Canadian CD's.
Tarey also finished her ASCA CDX with a class win!
Tarey was trained on sheep and ducks; had trialed on all stock and completed her Started title on Ducks and gained a leg on Sheep. I feel that, had she had the proper training, Tarey could have gone on to higher degrees on stock. The weekend Tarey qualified on sheep she also finished her Championship, her Companion Dog Excellent degree AND placed 2nd for Most Versatile Aussie.
Tarey completed the 1993 year by placing first in the ASCWA Dog of the Year Award.
Tarey enjoyed the life of leisure, periodically moving the chickens and other livestock around when she felt like it. She loved to sit in the holding pens when the lambs, kids and chickens are in feeding. This helps to get the livestock use to dogs in a non-threatening way and let her enjoy what see was able to do in her younger years! Her great granddaughter, Trouble, keeps up this tradition.
Just shortly after I lost her daughter, Juli, to cancer in 2001, at 14 1/2 years of age Tarey left us. She had a long eventful life, but at the end I knew when it was time. I'm sure that she is harassing her daughter, Juli, right now on who's going to sleep where!
Sleep well sweetie!