Winslows Australian Shepherds
The Boys ~Past & Present
My kennel is founded upon my bitches. I was lucky to have started with a very intelligent and versatile girl,
Tareyton - aka ASCA/Can CH. Blu-Star's Rather Fight Than Switch, ASCA CDX, Am/Can CD, STDd (1 leg STDs).
The boys are only available to approved, OFA & ACVO Clear eyed Australian Shepherds over the age of 4 years. Don't even ask to use them for Mini's or other breeds. ASCA Registration IS REQUIRED on dam and litter - NO EXCEPTIONS. Video and/or action photos required. Bitch will not be accepted for breeding if I deem it not of suitable temperament. Previous litter information is also required. If you just want puppies, look elsewhere as I am not into breeding for breeding's sake - my opinion is spay your bitch and leave the breeding to those who truly care about the breed. Breeding is an expensive venue in time and money and should not be taken lightly. And please do not contact me when you're bitch is in standing heat. All tests must be performed prior to breeding. No exceptions.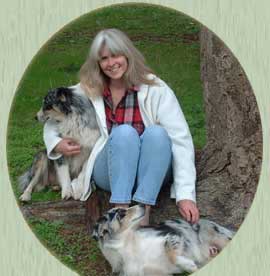 News
Upcoming Litter

Expected litter out of Harley Labor Day week 2012 if all things work out. Red and Red carriers. Versatile stock dogs with biddable temperament. Good looking and easy to live with. Natural on stock. Will head and heel. Linebred on WTCH 45 Ranch Wind Wolf PATDcs RTDcs DNA-VP. ASCA registered only. AKC registration possible. Dual Sires: HOF WTCH CH Little Spots Spector DNA-VP and WTCH Little Spots Smokring N Dark RS-N JS-N JV-O DNA-VP. This is a similar cross that produced one pup who is living/working on a cattle ranch in Northern California.
The Boys
Retired

Boston

Ch. Winslows Boston Tea Party

Boys Elsewhere ~

Cash

Owned by Andrea Scott, Idaho

Winslows Burning Ring of Fire ATDdc OTDs

Winslows Shaman Chant TD