Winslows Double Trouble ATDds STDc RTDs HTD1ds
sire: Ch. DeAbajo Double Latte' Donegal
dam: A-Ch Winslows Hear I-Am!

Gone But Never Forgotten
My Heart Dog.
In Memory
Winslows Double Trouble RTDs ATDsd STDc (1 leg OTDc) HTD1ds (1 leg HTD2d) 6/2/98 - 2/19/10
Friday, February 19, 2010 at 8:53pm
Trouble never lived up to her name. She was anything but. She was my dog and pretty much let everyone know it. She really wouldn't give you the time of day . . . unless you had a cookie. Not even stock work would get her to be your buddy.

Today, though, I had to let Trouble go. It was a beautiful day to leave, considering this is really supposed to be winter here in the Pacific Northwest. It was in the 50's with the sun shining, barely any clouds in the sky, the grass was green and lush. It had been this way for a few days and I'm thankful that I was able to spend these last beautiful days with my trusted and loyal companion and friend.

She had to leave because the cancer that started back on Christmas eve, no doubt, had been ravaging her tiny body faster than we had expected. I was thinking we would have months, maybe a year or two. But the swelling from the surgery never went away, it just increased in volume and thickness. What use to be the size of a large golf ball was now engulfing her right shoulder, right side of her neck down under her chest and back to behind her right elbow. It seemed to increase in speed from Monday when I took her in for a check up to the point that by Wednesday she could no longer stand on her own to go potty, collapsing quickly thereafter. It was eating all her strength, she slept most of the day out in the sunshine on the lawn, sometimes lifting her head to watch what I or Courtney or the dogs next door where doing. She could no longer use her right leg. Yet through all of this she never lost that brightness in her eyes, her willingness to roll over for a tummy rub, or let me know she needed to go out to re-leave herself. Not once during all of this did she piddle in the house!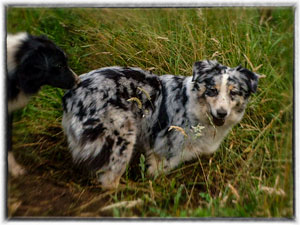 But Trouble was more then the dog that was taken by cancer. She was a dog that I learned soooo much about stock work with. She was a dog who had the instinct and guts to work anything I asked her to. Singles? No problem. Ornery Suffolk ewes that weighed a good 4 or more times then she? The bigger the better in her book. Her first time on cattle at a trial at age 2 she was hitting heads like nobodies business - even when she got kicked in the side and then the head. Just meant they needed to be bit harder next time.

She was a sweet dog, gentle with newborns - be it ducks, lambs, goats, whatever. Could bring back all of the stock out of the trees and bush as if she had counted everyone. (I really think that she did too!)

When I first decided to trial Trouble I didn't have anything to work her on but goats, sheep and chickens, I had hoped that the chicken work would pass over to the ducks, Granted the chickens were by far harder to work then a duck flock. They would fly up into their nest box trying to fool her but she figured it out real quick and looked up to see them then jumped up into the next boxes and pushed them back out - without cracking any eggs. They tried that two more times and gave up.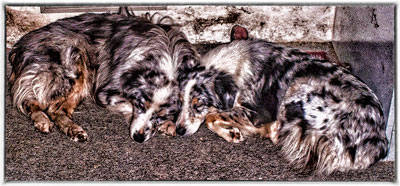 As a pup Trouble wanted to be with me no matter what and nothing was going to stop her. She would climb over babygates, xpens, 5' gates, out car windows, wire crates, to be with me. But it wasn't always that way. When she was just about a wk or 2 old she HATED to be held. She would scream to the point of hyperventilating (think of a child!) until put down, so I told her that this was not going to do and I was going to hold her every day for hours until she got used to it. I think about after a wk she gave in.

She was smart. My obedience instructor, Dale Gordon, had evaluated the litter she was in and said that she was the one to keep. I had already planned on that and told her so. I knew how smart she was. She had already learned to 'give me five' give me ten, sit, down, stand, jump into the top crates, never fought the leash from the time she was 4 wks and had learned all of the above in quick sessions. She loved to learn and loved to please me.

She was also my chore dog. If I had to doctor sheep or goats or raise ducklings that tried to drown themselves, find ewes with newborns and bring them back down the hill, move the stock from my farm to the fields next door or down the road, she would do it, even after she had cut up her front pads so bad I could tell it hurt her to walk, but she never wanted to quit.

Later in life as she grew older and, wiser, and had been kicked and trampled too many times by cattle, she would worked them only because I asked her too. Dana Mackenzie had once commented that she had so much heart, you could tell that she really didn't want to be there in the arena with the cattle but she'd do it for me. And it was true. Poor girl only got to see cattle at trials for the most part until I brought some calves home for her and the rest to work and get use to being around. After that it boosted her confidence level and she worked them almost as fearlessly as she had as a younger dog.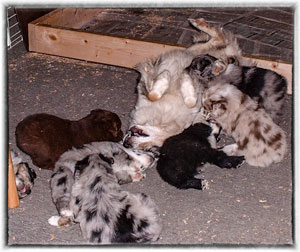 Trouble was a dog that I trusted at home with stock as well as at trials to make the right judgment call on stock. Sometimes that would get us a 'thank you' under certain judges - especially those who didn't like a dog to grip - even when it was appropriate. And I think that by doing so, Trouble trusted me as well, knowing I wouldn't put her in harms way needlessly. Knowing that I wasn't going to call her off if a ewe decided it was going to ram her and that a quick nip on the nose would teach it a valuable lesson.

I had hoped that when I retired Trouble at ten from the trials and last year from working the rams and ewes that she was going to have a long retirement, taking it easy, helping whenever she wanted or felt the need. Unfortunately that wasn't so.

There are many, many stories and memories I have of my dear friend. And I'm going to miss her. I'll miss her rolling herself on top of me in bed, trying to get me to wake up and hug and cuddle. I'll miss her happiness at just seeing me everyday when I come home from work. I'll miss her carrying around her toy in her mouth, taunting me to catch it and throw it for her. Or just to lay down next to me with it. I'll miss her excitement to ride shotgun, laying down with her head on my thigh during long drives to trials. I'll miss the camaraderie she had with her best dog friend/girl friend Courtney. They raised litters together, road together in the same crates when Michelle and I went on over-nighters to trials. Slept together, usually with one's head on the other's back. I'll miss how she liked to fit herself under the heater next to my feet, never seeming to get toasted. And I'm thankful that I have her daughter Harley, not as her replacement, but as a sweet memory.

Good Bye my sweet, sweet girl. You deserved more of life. I wish I could have given that to you.
More Trouble vidoes: Pasture work: Trial: Round Pen:
8-1-01
ASCA
BOB BLOUNT
STDs
81
Finished STDs
8-2-02
ASCA
RACHEL VEST
RTDs
76
11-23-02
AHBA
BARB DAVENPORT
HTD1s
73
11-23-02
AHBA
BARB DAVENPORT
HTD1d
68
3
2-15-03
AHBA
CAROL WOLFRAM
HTD1d
72
1
6-7-03
ASCA
RICK HARDIN
OTDs
101
2
6-8-03
ASCA
RICK HARDIN
OTDd
92
7-6-03
ASCA
GARY HAWLEY
OTDd
93
3
Finished OTDd
8-2-03
ASCA
WALLY BUTLER
STDc
77
2
8-3-03
ASCA
JERRY ROWE
STDc
84
Finished STDc
11-23-03
AHBA
ELSIE RHODES
HTD1S
63
4
11-23-03
AHBA
ELSIE RHODES
HTD2D
63.5
1
7-03-05
ASCA>
SHANNON OXFORD
ATDd
91
7-04-05
ASCA
MARLEEN DAVIS-GUILLIANO
ATDd
90
FINISHED ATDd
11-12-05
ASCA
BOB BLOUNT
OTDs
102
1
FINISHED OTDs
01-21-06
ASCA
ROGER STEVENS
ATDs
94
01-22-06
ASCA
ROGER STEVENS
ATDs
98
(2ND LEG - DOESN'T COUNT)
04-23-06
ASCA
KAYE HARRIS
OTDc
96
2
07-03-06
ASCA
WAYNE HARRIS
ATDs
90
FINISHED ATDs
6-02-07
ASCA
RUSS FORD
OTDc
87
4th / almost a Q!