Winslows Shaman Snake Dance
Sire: WTCH Vaquero's Cole Younger, AFTDs, DNA-VP
Dam: HOF Dam WTCH Winslows Eye Candy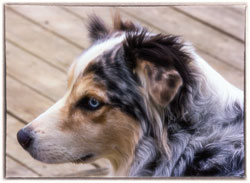 Viper brings in some lines that I've admired over the years. She is a real sweetheart but loves to play hard with her mom, older siblings and cousins. She's been exposed to sheep, ducks, geese, and calves; 'helps' feed every morning/evening and is learning quickly about obedience. Structure is pretty darn nice at this time. I've played with her a bit on sheep and she is very easy to work, goes to head and balances well and is easy call off.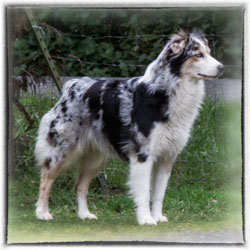 Viper is now in training on stock (sheep/steers). She pushes out well, balances and rates nicely. Has no problem going to head and has enough presence/force to turn stock - either sheep or cattle and does not shy away from gripping.
One of these days we will get into the conformation ring. She is very structurally correct and moves balanced.